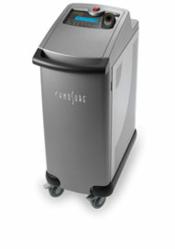 LaserTouch Aesthetics is excited to announce the addition of Elite laser by Cynosure to their Array of Lasers offered at its Gaden City, Long Island location
Garden City, NY (PRWEB) September 29, 2012
Laser hair removal in Long Island New York just got more convenient for area residents. Cynosure's Elite Aesthetic Workstation is one of the most comprehensive laser hair removal systems available today. Since it is designed for all skin types, it can treat the broadest range of clients. In addition, the system is optimized for effective treatment of facial and leg veins, as well as benign epidermal pigmented lesions.
The Best of Both Worlds
The Elite removes unwanted hair with unsurpassed efficacy and client comfort. That's because its revolutionary technology combines two optimal wavelengths in one system: the 755-nm Alexandrite laser and the 1064-nm Nd:YAG laser.
Easy, Safe, Effective And Fast
· The 755-nm wavelength has high melanin absorption characteristics and proven long-term results for permanent hair reduction and pigmented lesion removal.
· The high-powered 1064-nm Nd:YAG is the safest wavelength for permanent hair reduction on darker skin types, such as laser hair removal for African American skin types, and tanned skin. It is also the wavelength of choice for treatment of facial and leg veins—the most common form of vascular lesions.
· The Elite delivers high fluence from large spot sizes-ensuring deeper penetration, faster treatment sessions and optimal results.
LaserTouch Aesthetics offers a team of skincare and medical professionals that are experts in the following treatments but not limited to:
Laser Hair Removal and Electrolysis
Freckle Removal
Skin Tightening
Laser Skin Rejuvenation
Sun Damaged / Brown Spot Treatment
Vein / Spider Vein Removal
Acne Corrective Treatment
Acne Scar Reduction
Non-surgical Wrinkle Reduction
Botox, Fillers, and Anti-Aging Procedures
Smartlipo, Body Contouring, Cellulite Reduction
Mole and Wart removal
Tattoo Removal
About LaserTouch Aesthetics:
LaserTouch Aesthetics centers provide laser hair removal, tattoo removal, Botox® and fillers, laser skin rejuvenation, microdermabrasion, cellulite treatment, acne reduction and acne scar reduction, mole removal, smartlipo and other aesthetic procedures for female and male clients of all skin complexions. In order to best serve clients, LaserTouch Aesthetics utilizes the most advanced and safest laser and aesthetics technologies such as Elite MPX, Medlite C6 and Smartlipo MPX by Cynosure, GentleLASE® and GentleYAG® by Candela, Xeo by Cutera®, Fraxel® by Solta and Reaction, Trios and Pristine by Viora.
LaserTouch serves Westchester New York via its 16 Church Street, White Plains location, serves New York City via two clinics, at 150 Spring Street in SoHo and 57 West 57th Street, Suite 809 in Midtown and serves Long Island via its Garden City location at 100 Garden City Plaza, Suite 105, Garden City, NY 11530.
For more information, visit lasertouchsoho.com/long-island or call 516-535-0035 for a complimentary consultation. To follow the latest in aesthetics, visit lasertouchsoho.com/blog.