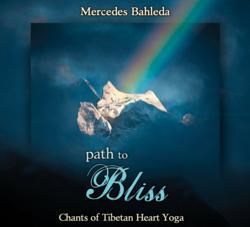 Artists must have an opportunity to share their work with others. Otherwise, something in them slowly starts to die.
Boulder, CO (PRWEB) September 30, 2012
New York City native Mercedes Bahleda is a woman of many facets – an accomplished singer, a teacher, a certified Hatha/Ashtanga yoga instructor, and a devoted student of both Buddhist and western meditation and devotional music. She has taught at NYU and traveled the world in her pursuit of learning, dedicating herself to helping others radically transform themselves through meditation and song. She incorporates her love of music, story telling and over a decade of intensive Buddhist studies into her fun-packed classes, and today is director of Star in the East (starintheeast.org) and a teacher at Diamond Mountain University & Retreat Center in Arizona.
Path to Bliss is Bahleda's second release, and its subtitle – "Chants of Tibetan Heart Yoga" – reveals the album's central intention: to achieve enlightenment by working with the inner body through meditation while using asana (yoga) to realize the physical aspects of one's practice. With several songs in Sanskrit, the holy language spoken by the Buddha and considered to carry unique blessings, the album ranges from beloved , popular mantras like "Om Mani Padme Hum" to deeper, more complex prayers drawn from tantric traditions. These, sung in Tibetan, Bahleda describes as "the most secret and advanced."
For this recording, Bahleda assembled a group of New York's finest musicians and an eclectic array of instrumentation – from cello and steel guitar to African kalimba, Indian harmonium and tabla, and the resonant, chiming hang drum – to construct a sonic temple to frame her distinctive voice. Her vision was to create a flowing, organic recording that would be both beautiful to the ear and a blessing to the heart and mind. Yet this album represents a departure from the solemn, elegaic beauty of her recording debut, Mercy Songs (2010), as her vision for this sophomore effort was also to produce "a rocking kirtan album."
Raised as a Roman Catholic and trained by Dominican Sisters at Mount Saint Mary's Convent Academy, Bahleda was introduced at an early age to silent retreat, chanting and various forms of meditational prayer, a path that would lead her to reach beyond her Christian upbringing to seriously explore Buddhist studies. She completed seven teacher trainings in Tibetan Heart Yoga Asanas and eight trainings in the Yoga Sutras and Hatha Yoga Pradipika scriptures, studying with esteemed Tibetan Buddhist teachers.
She says, "Buddhism informed my Christianity. I actually still consider myself Christian. I think Jesus was a Buddha. Buddha means someone who woke up…I think Jesus and the Buddha had the same message. Buddha just lived longer so we have more scriptures on what he said and how to make it happen…extremely well-preserved and not tampered with."
Music is an important part of Bahleda's spiritual discipline; through her practice she has come to realize that "artists must have an opportunity to share their work with others. Otherwise, something in them slowly starts to die. When I feel that what I'm offering has been received by another, and something within them moves in a beautiful way because of it, my life has meaning…and I am happy."
By applying dynamic, multi-textured arrangements to mantras and prayers, she and her collaborators have fashioned a richly uplifting collection of inspirational music. The fusion of instruments and sounds gives Path to Bliss a feeling at once both ancient and modern, creating a beautiful accompaniment for listeners' yoga practice or for the daily meditational routines of various traditions.
########
Track Listing
1. Kandroma (9:38)
2. Guru Naraya (6:27)
3. Wheel of Time (6:13)
4. Limitless Love (9:49)
5. The Diamond Cutter Chant (5:00)
6. Om Mani Padme Hum (6:31)
7. The Heart Sutra (14:57)
Musicians
Mercedes Bahleda: voice, harmonium, tampura
Michael Hewett: acoustic, electric and bass guitars, tampura, ebow'd acoustics
Will Duncan: hang drum, tabla, djembe, percussion
Kevin Warren: kalimba, bolo ram drum, percussion, piano
Vicki Brown: violin
Noah Hoffeld: cello
Mira Shani: additional vocals
Since 1991, Boulder, Colorado-based White Swan Records has remained steadfastly attuned to the creative listener's yogic sensibility, developing an alluring, heartful and diverse catalog of music styles including Sanskrit mantra, kirtan Americana, Indo-Jazz Fusion, Zen moods and Sufi melodies. Featured White Swan artists include bestselling mantra performers Deva Premal & Miten, kirtan Americana troubadour David Newman, devotional pop singer Donna De Lory and folk kirtan singer/songwriter Brenda McMorrow.