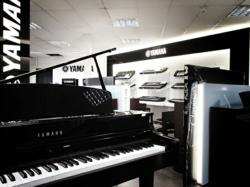 (PRWEB UK) 28 September 2012
Following the successful re-launch of their extensively refurbished flagship Reading store, Dawsons Music have now revealed plans for the opening of another new store in Belfast.
The company already runs a very successful business, providing musical instruments, equipment and training to schools in Northern Ireland from its warehouse, retail store and recording studio premises in Bangor, Co Down. The new city centre retail store will build on the existing business in Northern Ireland, offering a wide range of products to the public, including top brands such as Gibson, Epiphone, Fender, Ibanez, Yamaha and Roland, as well as the latest in Music Production and DJ products from the likes of Focusrite, Novation, Numark and Apple. The store will also become Belfast's only authorised Nord piano and synthesiser dealer.
The store will be located in the burgeoning creative Cathedral Quarter of Belfast, which has been designated as a cultural hub by the government with many new Arts Council funded projects and businesses. The quarter hosts most of the music and arts festivals which take place in Belfast, right on store's front doorstep, and local musicians will be pleased to see it opening on the site of what was once Marcus Musical Instruments.
Spread over four floors of retail, storage and creative space, Dawsons Music Belfast will be home to regular live music nights, musicians' clinics, workshops, and product demonstration evenings. Dawsons plans to place itself at the heart of the city's musical community, building close relationships with local businesses and the arts organisations.
Website
About us
Established in 1899, Dawsons Music is one of the longest-serving musical instrument retailers in the UK. The company currently operates 11 retail stores, an ecommerce website and a dedicated Education Department, supplying schools and colleges. More… http://www.dawsons.co.uk/about-us.
Recent History
2011 saw the arrival of new Managing Director, Mark Taylor, the opening of new stores in Leeds and Huddersfield and the launch of a new ecommerce website.
In 2012 the company is expanding its web and purchasing departments with new recruits and is currently seeking new opportunities for growth. Earlier in 2012 Dawsons became one of the few UK retailers to have the inside of one of their stores (Manchester) featured with a virtual tour on Google Streetview. The company has just recently given its current flagship store in Reading an extensive refit.
Contact email
lawrence(at)dawsons(dot)co(dot)uk