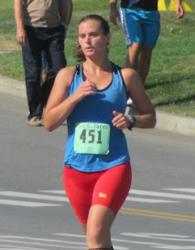 "Pivot shorts have been crucial in allowing me to run multiple times per day in preparation for the relay."
New Haven, CT (PRWEB) September 27, 2012
Aspaeris, a new company that provides performance-enhancing, injury-prevention compression sportswear for female athletes, will sponsor eight female athletes on a co-ed team of 12 runners entering the 2012 New Jersey Reach the Beach Relay. Each female runner on the team will wear Aspaeris Pivot Shorts (APS™) throughout the overnight, 200-mile race from Vernon to Seaside Heights. The relay, which will be New Jersey's first ever overnight race, begins on Friday, October 12th at Mountain Creek in Vernon and finishes at Island Beach State Park in Berkley on Saturday, October 13th. The team name, Better than GTL : RES Repeat pokes fun at the "gym, tan, laundry" mantra of the MTV show "Jersey Shore" and espouses that to run, eat, sleep, repeat is better than GTL.
The female runners on the team come from Connecticut, New York and New Jersey, and all but two will be entering their first overnight relay challenge. All of the women who have been training in their Pivot Shorts for the past three months have remained injury free. The team already believes in the added benefits Pivot Shorts provide female athletes over the standard compression short.
"I love all of my compression shorts, but my favorite has to be my Aspaeris Pivot Shorts... I have had the opportunity to wear them during and after numerous training runs and races. I wore them during the Rock 'n' Roll Chicago Half Marathon and the race where I got my 5K PR!" notes team co-captain Jamie, who is 27 from Rochester, NY and blogs as fromcouchtoironwoman.com.
Megan, who is 23 from New York City and blogs as runlikeagirl.com, also gives a positive report, "Pivot shorts have been crucial in allowing me to run multiple times per day in preparation for the relay. They re-energize my legs and have improved my performance in later runs. I love them!"
APS™ is the only compression short designed specifically for females that improves performance, speeds recovery, and prevents injuries. In a recent survey, 80% of Pivot Short users reported a performance increase and 62% reported significantly faster recovery time when wearing the shorts after long runs. APS™ is being worn by thousands of new users and has been tested by over 100 premier sports medicine professionals and athletic trainers. APS™ was worn by the fastest all-female Ultra team in the Ragnar Relay SoCal 2012 and is a proud sponsor of the Hartford Marathon Foundation.
About Aspaeris
Founded by Samara Innovations, LLC in 2010, Aspaeris is a female-centric sportswear company that strives to protect athletes from injury and enhance their performance with advanced compression apparel. The Aspaeris Pivot Short (APS™) was created to help prevent non-impact ACL injuries in high-performance female athletes. APS™ is a unique compression short that has two layers. The outer short is a high performance compression short designed to support muscles. The inner short uses patent-pending technology called Dual Sensory Compression Bands™ to help guide the athlete into proper position while she pivots and runs. Aspaeris sponsors the NoACLHurt blog which features stories on recently injured or recovering female athletes, and is a proud sponsor of the Hartford Marathon Foundation. Athletes can also engage Aspaeris via Facebook and Twitter. To learn more about APS™, visit AspaerisPivotShorts.com.
To learn more about the 2012 New Balance Reach the Beach Relay Race Series, visit http://www.rtbrelay.com/