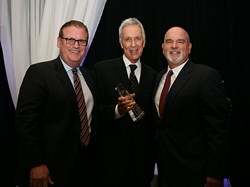 "Each day provides another chance to touch someone's life and make new friends,"
Newport Beach, Calif. (PRWEB) September 27, 2012
The hotels, restaurants and retail stores of Newport Beach, California are renowned for delivering the world's best service in one of the most beautiful corners of the globe. For seven years running, Visit Newport Beach Inc. – the destination marketing organization for the City of Newport Beach – has recognized this distinction with an annual award: The Rosalind Williams Memorial Service Excellence Award.
"The Rosalind Williams Memorial Service Excellence Award not only acknowledges the heart of what makes the Newport Beach tourism industry so successful – our front-line service people," says Gary Sherwin, President and CEO Visit Newport Beach Inc. "It also honors a wonderful individual we lost too soon – Rosalind Williams, the former president of the Newport Beach Conference and Visitors Bureau."
Newport Beach resorts, hotels, restaurants, retail stores and other tourism industry service providers nominate their exceptional employees to be considered for the award. And, each year, Rosalind Williams' family selects the final winner – and presents the award in front of an audience of nearly 200 of the region's tourism executives, law enforcement, fire department and City officials and the Mayor of Newport Beach.
"I am honored to present an award that not only honors my wife's memory, but also recognizes an exceptional individual who demonstrates – day in and day out – the characteristics of great service, duty, responsibility, teamwork and a generosity of spirit," said Rick John. "I hope that many of you have had the pleasure of experiencing the incomparable service of this year's winner, Balboa Bay Club and Resort's concierge, over the past eight years of his tenure. If you haven't, you need to get to the Bay Club as soon as possible!" he continued as he presented the award to Patrick Hynes.
Hynes began working as a concierge at the Balboa Bay Club and Resort in 2004, following a two-decade tenure in marketing and public relations for a major hotel chain. According to former President and COO of the Balboa Bay Club and Resort, Henry Schielein, Hynes has been a model ambassador for the Resort and has been named Employee of the Year during his tenure there.
"His warm, friendly and professional manner, and worldwide travel experience, combined with a detailed knowledge of the area, has earned him recognition from both Resort Guests and Club Members alike," says Schielein. "No request is too difficult for Patrick to fulfill, and he approaches each request with the mind of a detective, the desire to serve, and a pure heart of gold."
Hynes was appointed to the prestigious Les Clefs d'Or hotel concierge society in 2009 – and became one of only five concierges in Orange County to attain this world-renowned distinction.
For Hynes, providing world-class service is a privilege.
"Each day provides another chance to touch someone's life and make new friends," he says.
In addition to the Rosalind Williams Memorial Service Award plaque, Hynes also received a check for $500 from Visit Newport Beach Inc. as part of his recognition.
About Visit Newport Beach Inc.
Visit Newport Beach Inc. is a non-profit, 501(c)6 marketing organization under contract with the City to position Newport Beach as a visitor and conference destination. Visit Newport Beach sells the destination through direct sales efforts such as database marketing, lead generation, trade show participation, and familiarization tours for potential clients. In addition to these direct sales efforts, VNB promotes Newport Beach through advertising and public relations efforts. Visit Newport Beach Inc. is funded primarily by the city through Transient Occupancy Tax (TOT), as well as through a Tourism Business Improvement District (TBID) and private-sector membership dues from the hospitality industry or other related businesses.