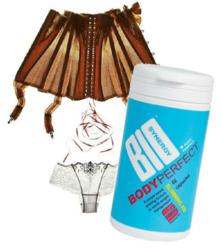 We've always helped people look their best, and this show is all about enjoying that feeling of looking great.
(PRWEB UK) 28 September 2012
The Lingerie Francaise Exhibition will reveal all about the history of racy undergarments when it opens at the London Film Museum from October 2nd to 7th with the support of Bio-Synergy.
Audiences should prepare to slip into something more comfortable to learn about more than 100 years of French lingerie from corsets to the invention of the bra, and then be amazed with the 'Holographic Striptease'.
Slimming and nutrition experts Bio-Synergy will be supporting the gala opening of the exhibition with their flagship Skinny Water, which has long helped anyone how to look good (almost) naked.
"We're delighted to support this exciting and innovative exhibition," said Daniel Herman, founder of Bio-Synergy. "We've always helped people look their best, and this show is all about enjoying that feeling of looking great."
With a range of award-winning products like Body Perfect and their newly released line of natural Acai products, Bio-Synergy are a cut above when it comes to looking your best in that little black dress.
Skinny Water is a delicious zero-calorie flavoured water that's made with chromium and l-carnitine to balance your blood sugar (and avoid cravings) and to improve your metabolism. As little as one bottle a day have helped some people lose more than a stone over 3 months.
Body Perfect is a tried and tested metabolism booster made with a variety of herbal extracts that naturally improve the body's ability to burn fat. Just a few capsules a day can help anyone to slim down and stop spilling out of those jeans – and slip into something far more flattering.
To make sure you look your best in every type of clothing, head over to bio-synergy.co.uk to learn more and set yourself on the path to releasing the new and improved you.
COMPANY INFO
Bio-Synergy has been producing supplements locally in the UK for 15 years. Under the direction of CEO Daniel Herman, Bio-Synergy pioneered a number of innovative products including a two-phase programme of Creatine and women's Skinny products that have cemented its position as one of the top sports supplement and lifestyle nutrition companies in the country.
Notes to Editor:
Images available upon request.
Active Woman products start at £16.99 and range up to £21.99
Contact:
John Stocks
Marketing and Sales
0207.569.2528
john(at)bio-synergy(dot)co(dot)uk
http://www.bio-synergy.co.uk
EVENT INFO
Lingerie Française makes its UK debut in October, celebrating the design, innovation and savoir-faire of French lingerie, as well as the legendary luxurious and seductive qualities we all know and love. After a highly acclaimed Paris exhibition, it is the first time that the most famous French brands have come together to unveil their treasures.
Press Contact:
Bright Light PR
020 7384 6111
07779 336 158
jackie(at)brightlightpr(dot)co(dot)uk