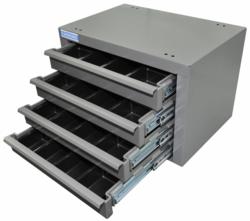 Create a custom storage unit with Adrian Steel's exclusive Lock 'n Latch Drawer Units.
Adrian, Michigan (PRWEB) September 29, 2012
Adrian Steel is pleased to announce a product improvement to our industry's best Lock 'n Latch Drawer Units, which are part of our van storage line, built for working professionals. The improvements include new heavy duty drawer glides and plug-and-play hole patterns on the top.
New Drawer Glides: significantly increase the ease of use when opening and closing the drawer units. The glides also all but eliminate the rattle noise of the drawers when driving the vehicle.
Plug-and-Play Holes: allow the drawer units to be stacked to create a custom storage unit.
The drawer units are available in a Four Drawer Shallow design, with 2.5" deep drawers, Two Drawer Medium design, with 5" deep drawers that offer optional "egg crate" dividers, and a Three Drawer Combo design, which offers both 2.5" and 5" deep drawers, with optional "egg crate" dividers.
The Lock 'n Latch system is exclusive to Adrian Steel. This system is designed to provide maximum flexibility and security for professionals. The Lock 'n Latch system adapts to the needs of the user. There are multiple choices for latching or locking the drawers in the open or closed position.
In addition, drawers and glides can be repositioned within the cabinet for even more storage flexibility. These drawer units are made of an engineered composite material and the outer cabinet is steel to endure years of heavy use.
Adrian Steel is a leader in the van and truck accessories industry. Adrian Steel is known for creating rugged, durable accessories that are flexible, easy-to-use, and attractive. Adrian Steel products are available through local distributors located throughout the country. To learn more, visit Adrian Steel online at http://www.AdrianSteel.com, call us at (800) 677-2726, or email us at info(at)adriansteel(dot)com.