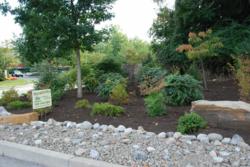 You can have a quality landscape that changes with the seasons.
Paoli, PA (PRWEB) September 29, 2012
Tredyffrin Township representative Hillary Mallory approached landscape design experts Naturescapes to donate a garden at Wilson Farm Park in the Chesterbrook area. Naturescapes, which provides expert landscape design in Phoenixville, Paoli and the surrounding main line area, regularly donates time and materials for community projects and was pleased to accept the opportunity.
"I wanted to make sure we had a high visibility area to show that you can have a quality landscape that changes with the seasons, which requires minimum maintenance and NO SHEARING OF SHRBUS", said John Fridy, owner and designer of Naturescapes.
Naturescapes first went in and cleared the overgrowth, weeds and obsolete shrubs. Then they brought in rocks and boulders to offer a contrast to shrubs. Fresh biosoil was brought in before the shrubs were planted. Later this fall, perennials and bulbs will be added. The result is a low maintenance garden that changes with the seasons offering year-round interest. "I love what you've done with this space," said a park regular.
Sam Browns Nursery generously donated some of the plants, as did Main Line Gardens.
About Naturescapes Landscape Specialists
Naturescapes is an ideation and implementation landscape company that specialized in low maintenance, naturalistic design that offers year round interest. Ponds, waterfalls, lighting, hardscapes and softscapes are part of this company's expertise.