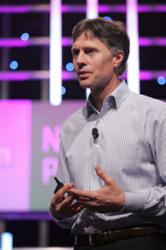 Seattle, WA (PRWEB) September 28, 2012
Change management has become an important concept in the corporate world over the last several years as economic uncertainty has made it crucial for businesses to adapt quickly to specific circumstances. Change is usually difficult and by its very definition unsettling, but ultimately vital to the long-term success of any company. Change management specialists, Tom Flick Communications, has identified leadership as the critical tool for navigating change and assists organizations in developing it.
Tom Flick, a leadership keynote speaker, understands a little about leadership. As former Rose Bowl Champion quarterback and PAC-10 Conference "Player of the Year", Flick has intimate knowledge of what it takes to succeed as a team. This understanding is applied easily to corporate team environments that require leadership to see them through times of uncertainty.
Leadership in this context is commonly misunderstood as coming from a single leader and stands in stark contrast to the concept of management.
The idea of managing change is a remnant of outmoded Western educational systems that Flick says, "are predominantly geared towards management, developing in people managerial mindsets." He goes on to indict this mindset as a way to "maintain the status quo and avoid hazards", thus exposing an obvious dichotomy. In Flick's system change requires leadership to be successful and should be "emphasized and focused upon to a higher degree."
According to John Kotter's recent article in Forbes, change leadership is the key to changing todays organizational culture. The qualities of change leadership that stand in opposition to change management are centered around the ideas of vision and strategy.

Motivational - By getting an entire workforce to buy into change, along with their individual roles within it, a team mentality can be reinforced. Leadership is exuded by everyone, thereby, allowing motivation to result in action.
Removing Barriers - Buying into change is all about removing barriers to success. Encouraging leadership on every level is the best way to engage teammates, allowing them to be an active part of the solution.
Adaptability - Leadership is the key component for an adaptable workforce. Getting everyone to row in the same direction is more likely to be achieved by cultivating leadership on an individual and personal level, rather than by someone keeping time on a drum.
Growth - Complex systems can be mired in managerial tasks, such as budgeting, staffing, regulating and problem solving. While each an important task in its own right, change requires leadership to transcend these aspects, seeing the big picture in terms of opportunity and growth.