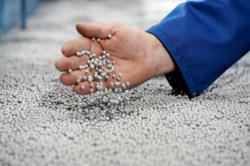 For Passive Home design, Neopor gives architects the option of designing a thinner building envelope, adding increased architectural flexibility.
Wyandotte, MI (PRWEB) September 27, 2012
Aaron Wood, Marketing & Innovation Manager, Global Foams Business, for BASF in North America, will participate in the 7th Annual North American Passive House Conference at the Marriott City Center in Denver, Colorado.
Wood will participate in Track 4: Components and Materials to Meet the Challenges, on Sept. 29 from 2 to 4 p.m. in Salons I-J. Wood's presentation is titled, "Achieving architectural harmony and decreasing building costs with graphite-enhanced EPS Structural Insulated Panels (SIPs)."
Participants will learn about the unique aesthetic, financial and performance advantages of using Neopor® graphite-enhanced insulation as part of cost-effective construction of structures that can achieve Passive House energy efficiency standards.
"Neopor, as an adaptable insulation material with long-term stable R-value, has proven itself in Passive House projects around the world," said Wood.
He added that Neopor thermal insulation contains graphite particles that reflect and absorb radiant energy. This has the effect of decreasing the flow rate of thermal energy through the material; thereby increasing its R-value. The result: less insulation is needed to achieve the same insulating value.
"For Passive Home design, this attribute is particularly beneficial, because it gives the architects the option of designing a thinner building envelope, adding increased architectural flexibility. Additionally, the use of graphite-enhanced SIPs increases construction speed and efficiencies and provides the homeowners with long term-energy savings," said Wood.
The session will include a review of property differences between Neopor and extruded polystyrene (XPS) and provide an overview of uses and applications for Passive House design including SIP walls and roofs, and below-grade exterior and slab insulation.
Case studies will include the Hudson Passive House, the first certified Passive House in New York State. Designed by Dennis Wedlick Architect, LLC (DWA), the three-bedroom Hudson Passive Project is one of the most energy-efficient homes in the country. To achieve these insulating values, DWA specified energy-efficient Structural Insulated Panels (SIPs) from Timberline Panel Company, Cambridge, NY optimized with insulation panels, provided by Opco, Inc., Latrobe, PA, using Neopor beads supplied by BASF Corporation.
Woods will also preview the Columbia County Habitat for Humanity Passive Town House project currently underway in Hudson, New York, also in partnership with DWA, OPCO and Timberline Panel Company. The Passive Town House Habitat project will demonstrate the real-word value homes built to Passive House standards for low-income homeowners.
According to Columbia County Habitat for Humanity Executive Director Brenda Adams, "Low income homeowners in our county are spending as much as 9 percent of their income on heating and cooling their homes. By building to Passive House standards we expect to reduce that figure by 90 percent. That promises to make a meaningful difference in their lives and in many cases, could be a critical and continuous financial safety net."
What is a Passive House?
According to the Passive House Institute US, "a Passive House is a very well-insulated, virtually air-tight building that is primarily heated by passive solar gain and by internal gains from people, electrical equipment, etc. Energy losses are minimized. Any remaining heat demand is provided by an extremely small source. Avoidance of heat gain through shading and window orientation also helps to limit any cooling load, which is similarly minimized. An energy recovery ventilator provides a constant, balanced fresh air supply. The result is an impressive system that not only saves up to 90% of space heating costs, but also provides a uniquely terrific indoor air quality."
To learn more about Neopor graphite enhanced insulation from BASF, please visit http://www.neopor.basf.us/
About BASF
BASF Corporation, headquartered in Florham Park, New Jersey, is the North American affiliate of BASF SE, Ludwigshafen, Germany. BASF has more than 16,000 employees in North America, and had sales of $20 billion in 2011. For more information about BASF's North American operations, visit http://www.basf.us.
BASF is the world's leading chemical company: The Chemical Company. Its portfolio ranges from chemicals, plastics, performance products and crop protection products to oil and gas. We combine economic success, social responsibility and environmental protection. Through science and innovation we enable our customers in almost all industries to meet the current and future needs of society. Our products and system solutions contribute to conserving resources, ensuring healthy food and nutrition and helping to improve the quality of life. We have summed up this contribution in our corporate purpose: We create chemistry for a sustainable future. BASF posted sales of about €73.5 billion in 2011 and had more than 111,000 employees as of the end of the year. Further information on BASF is available on the Internet at http://www.basf.com.
Registered trademarks are property of BASF SE and BASF Corporation.