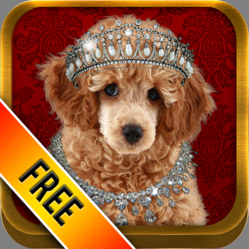 Belfast, Maine (PRWEB) September 30, 2012
Dog groomers need fast and easy ways to attract new customers and build relationships with their existing ones. Mobile app company Cat Game Apps, LLC has released an app to do just that. The new app, called Pet Royals makes it easy to create fun and engaging photos of pets.
To make these kinds of photos in the past, it was necessary to actually dress up a dog or use expensive, complicated software like Photoshop. Pet Royals makes it so easy anyone who can take a picture can to it. There are only three steps. First, take a photo of the pet's face. Next the user chooses the accessories they want to add to the photo and adjusts the size and orientation of each item using their fingers.
Finally, when the image is complete, the app can save it to the camera roll to use later, email it, or quickly update social sharing sites like Facebook or Instagram. It can also turn the photo into a promotional gift or a thank you for a special client, by uploading the royal image to Shutterfly where is can be used to make everything from a thank you card to coffee mugs.
Royal photos are great for advertising campaigns. A picture of a nicely groomed animal is great but not necessarily eye catching. App developer Tim Wilson says, "adding a crown and jewels really catches people's eye. It tells them the business treats pets like royalty and shows the personality of the business. It separates the business from it's competitors. We have lots of ideas for ways business owners can grow their business on Pet Royals.com. "
The app is currently available for Apple mobile devices and is scheduled for release for Android in October.