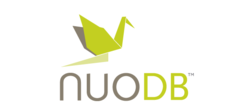 I look forward to engaging in a lively dialog with Cloudera to debate the relative merits of Hadoop, stated Barry Morris, NuoDB CEO and Founder.
Cambridge, MA (PRWEB) September 28, 2012
NuoDB, Inc., the leader in elastically scalable database software for the cloud, today announced that Barry Morris, CEO and Founder of NuoDB, Inc., will debate Dr. Amr Awadallah, CTO and Co-Founder of Cloudera, Inc., on the topic: "Debate - Hadoop versus The World."
The debate, officially part of the upcoming GigaOM Europe: Structure event in Amsterdam, The Netherlands, will take place on October 16th at 12:20 pm CEST, at the Hotel Okura Amsterdam. The debate will be moderated by Derrick Harris, Senior Writer, GigaOM.
GigaOM describes the debate as follows: "As the demand for analyzing data sets of increasing variety and scale continues to explode, the software options for performing this analysis are beginning to proliferate. On one hand, traditional relational database technology has been extended so that database systems can approach large-scale deployments. At the same time, the open source Hadoop frameworks are becoming increasingly popular. Both options have advantages and disadvantages, but which will come out on top?"
"I look forward to engaging in a lively dialog with Dr. Awadallah to debate the relative merits of Hadoop for differing organizations," stated Morris. "Hadoop is a central technology for web-scale computing. It's very exciting that the technology can now be extended beyond powerful batch-style map-reduce jobs to general purpose SQL workloads, including analytical queries as well as high performance OLTP."
About NuoDB
NuoDB, Inc. is a Cambridge, MA-based startup that provides the industry's first and only patented, elastically scalable database. Unlike every other database, NuoDB is architected to scale effortlessly on the cloud without compromising any of the features or guarantees of relational databases.
Founded by industry-renowned database architect and innovator Jim Starkey and enterprise software CEO Barry Morris, the NuoDB database is currently in beta and will become generally available in late 2012. For more information, visit us at http://www.nuodb.com. Twitter: @NuoDB