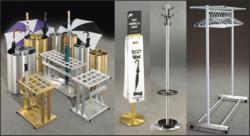 Fast shipping has helped Glaro Inc. stand out in the industry for decades, but more importantly, it helps our distributors provide outstanding service on every order.
Hauppauge, NY (PRWEB) September 29, 2012
Glaro, Inc., a leading USA manufacturer since 1945, has been ramping up its warehouse inventory of coat trees, coat trees with umbrella stands, wall mounted coat hooks, wardrobe racks, coat hangers, wet umbrella bag holders, and umbrella stands to ensure that its distributors will satisfy their customers with immediate order turnarounds.
Dealers considering Glaro Incorporated as their main manufacturer for these products have come to trust the American brand's quality and service, knowing that their placed orders can meet their own customer's demands and deadlines. Executive Vice President Robert Betensky commented, "Informed distributors know that they can take advantage by promoting products manufactured by Glaro Inc. for this season and benefit from increased revenues from quick ship / quick billing." In fact, the company ships over a thousand of its products in less than three days on average. "Fast shipping has helped Glaro Inc. stand out in the industry for decades, but more importantly, it helps our distributors provide outstanding service on every order," stated Mr. Betensky during an interview.
In addition to quick shipping, Glaro Inc. attributes its success in the coat hanging and umbrella stands categories to the wide variety of designs, sizes, and finishes available to its distributors and end users. The coat tree line has also been redesigned to include a built in umbrella stand combination feature. Two tone satin aluminum and satin black models have been introduced.
The company's innovations extend to details often overlooked by other industry players. For example, as a departure from traditional coat trees with hooks, Glaro Inc. now offers coat trees with a hanger bar complete with solid aluminum hangers that match the coat tree. Glaro Inc. wardobe racks, popular in both the residential and the commercial markets, come in a finely polished satin aluminum finish. When asked, Glaro Inc. executives mentioned that they are especially useful in any area where people gather or where coats and clothes require hanging. "Our solid aluminum coat hangers are made in two gauges and can handle any kind of garment regardless of its weight. It's a one piece riveted construction that can even support heavy fire fighting gear. We have no records of anyone ever returning one."
Approaching the fall and winter seasons, Glaro Inc. has noticed an increasing demand for its new line of wet umbrella bag holders used in building lobbies to keep floors dry and people safe. Distributors who need replacement bags know that like most Glaro Inc. products, wet umbrella bags are available for quick shipping.
For more information on Glaro Inc., please visit glaro.com.
About Glaro:
Glaro, Inc. (glaro.com) is a leading USA manufacturer of commercial and consumer steel and aluminum products sold through dealers for close to 70 years. All products ship in 1 to 3 days. Glaro products are the result of a focus on thoughtful innovation and design. Product lines include bellman carts, platform trucks, metal trash receptacles, recycling receptacles, smokers' posts and receptacles, crowd control posts and systems, sign frames, and directories, coat hanging equipment, umbrella stands, wet umbrella bag holders, planters, and key drop boxes. A diverse selection of models in 31 finishes is produced in the Hauppauge, New York plant by skilled Glaro Inc. craftsmen. The company is known for its quality merchandise and its ability to consistently quick ship all products. The customer service department provides unusually prompt personal service and is sensitive to the needs of dealers and distributors.