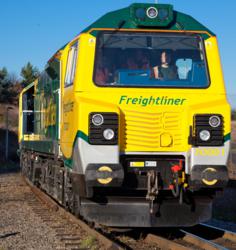 Since 2009, year on year we have seen our volumes at Tilbury steadily increase.
(PRWEB UK) 28 September 2012
Freightliner Ltd, the UK's largest intermodal rail freight company operates its own rail freight facility at the London port. Freightliner has a market share of 22 per cent at Tilbury and operates 16 daily import/export services from the port to eight destinations across the UK, six of which are inland terminals owned and operated by Freightliner.
Tilbury is one of the five key deep sea ports served by Freightliner Ltd which moves 80% of all railborne maritime containers that enter the UK to 14 locations serving all the major UK conurbations. Freightliner supports its rail services through the use of its in-house road services (FRS) to provide end user delivery for the container's final leg of its journey.
Adam Cunliffe, Managing Director, Freightliner Ltd commented; "Since 2009, year on year we have seen our volumes at Tilbury steadily increase. Improved operations, the support of container transfer from Forth Ports and the launch of our new container handling IT system, Spinnaker, last year have helped us to achieve our record throughput."
About Freightliner
Previously part of British Rail, Freightliner was privatised in 1996 and has since increased turnover by over 180 percent. Initially only providing Intermodal services, the company has since expanded to have five subsidiary companies, all operating under Freightliner Group Limited.
Freightliner Limited is the UK's largest hauler of maritime containers, accounting for 20 percent of the total market share, and 80 percent of the rail-fed market.
Freightliner is officially the UK's most reliable rail freight operator with an industry-leading reliability of 98% on-time delivery. Operating over 102 daily services over 37 direct route offerings to and from the UK's deep sea ports to 14 destinations, 9 of which are terminals owned and operated by Freightliner. Freightliner uniquely provides a complete logistics package through the use of its in house road fleet of 300 vehicles with local road services, to move customers' containers on the first or last leg of a worldwide journey.
In 1999, Freightliner identified a significant opportunity to expand, and established Freightliner Heavy Haul Limited (FHH) to service the bulk rail freight industry. FHH now operates nationwide in the coal, aggregates, cement, specialist minerals, steel, and waste sectors, and has grown to a turnover of over £100m.
Since then, Freightliner Group has established new subsidiaries; Freightliner Maintenance Limited, a separate entity dedicated to the repair and maintenance of traction and rolling stock and international subsidiaries; Freightliner PL Limited – operational in Poland and Germany, and Freightliner Australia Pty Limited, which began operations this year.
Increasing network utilization and lowering carbon emission.
PowerHaul locomotives have greater fuel efficiency, higher haulage and acceleration capabilities than any current diesel locomotive in the UK, enabling Freightliner to uniquely; reduce CO2 emissions, improve reliability increase port capacity and network utilisation.
Through the use of our new Shortliner wagons, we are able to haul 42% more 40ft containers per service without wasting any 20ft space, enabling us to meet the growing 40ft market demands whilst fulfilling 20ft container needs.