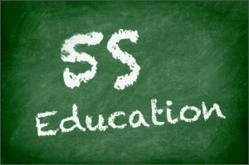 (PRWEB) September 27, 2012
5S Today, the efficiency solutions product and information company, is now offering educational information and free guidelines via their website. The educational information and free guidelines are designed to help companies most effectively implement workplace efficiency and safety. The products and educational services supplied by 5S Today are designed to apply a philosophy in conjunction with the right tools, to make business more successful and competitive in their market.
Through their website, 5S Today offers a comprehensive source of essential 5S information and education. Access is granted to a bountiful selection of information on the proper use of 5S products for efficiency and safety purposes, including: 6S, Six Sigma, Zero Defects, Kaizen, Kanban Floor Marking, Pipe Marking, Labels and Signs, Lean Manufacturing, and Total Quality Management. This educational resource is designed to provide organized and detailed information on various Lean Manufacturing products and additional 5S topics.
Their free guidelines include their free 5S Guide, Kaizen Guide, and Floor Marking Guide. The 5S Guide provides information needed to properly implement the 5S Program. The Kaizen Guide is designed to help target continuous improvement in human resources and processes, thus improving efficiency and overall well-being of employees. The Floor Marking Guide is available to help businesses follow the proper floor marking safety procedures and guidelines to comply with OSHA and promote workplace safety.
About 5S Today:
5S is a company dedicated to streamlining and enhancing organizations. Their products and services enable companies to gain a competitive edge in their market by learning how to best reduce costs, increase sales, and become more agile in the ever changing business environment. 5S is a systemic approach to workplace organization; it utilizes their unique 5 pillars of 5S: Sort, Set in Order, Shine, Standardize, and Sustain. They offer several instructional and educational packages which help businesses best utilize 5S's products. They also offer a large selection of tools to use in the workplace to maximize organization, like safety tape, lean posters, floor tape, and banners which can be shipped to virtually any address around the world and domestic deliveries of orders over $100 quality for free shipping. For more information, visit http://www.5stoday.com.