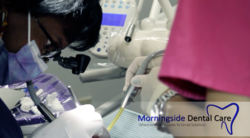 New York, NY (PRWEB) September 28, 2012
Dr. Donna Williams of Morningside Dental Care doesn't want the fear of pain caused by dental procedures to stop patients from receiving the care that they need. She utilizes a variety of methods to administer sedatives to her patients so that each patient's needs can be met. Sedation can be administered through nitrous oxide, commonly called laughing gas, locally, orally, or intravenously.
Depending on how much anxiety a patient feels during the dental procedure, as well as how much anxiety they experience leading up to the procedure, Dr. Williams can use minimal, moderate or deep sedation. When a person has a very strong fear, the deeper sedative will be used, placing the patient on the edge of consciousness but maintaining the ability to wake them if needed.
Moderate sedation is used to keep a patient very relaxed, but still conscious so that they can respond to some environmental stimuli. A response from a patient who is moderately sedated may be slurred. A minimal sedative is administered to a person with only a mild amount of anxiety, and the patient is able to respond both physically and verbally to directions provided by the dentist.
Minimal sedatives usually allow the patient to remember at least a portion of the experience while mild and moderate sedatives often mean that the patient will not remember much, if anything, about the dental procedure. People who suffer from high anxiety in relation to dental procedures may want to try sedation dentistry. More information can be found about types of anesthetics and how they are used in dentistry at http://www.nylasergumsurgery.com.
Morningside Dental Care is a general practice offering patients personalized dental care for New York, New York. Dr. Donna Williams started her dental career at Howard University as a Dental Hygienist. She graduated from Baltimore College Dental Surgery/University of Maryland, the first dental school in the world. Throughout her dental school education she received awards and recognition, including maintaining a 4.0 GPA during her initial year, and an award for outstanding research in the Dental Clinical Science Research competition. She completed a fellowship in Holistic dentistry and is one of very few general dentists who have achieved this accomplishment. Having lived in Africa for a year, she returns on a regular basis to volunteer, providing dental service and education to villagers. Dr. Williams is part of one percent of dental professionals providing the most recent FDA cleared laser procedure for gum disease and periodontal treatment. To learn more about Morningside Dental Care and their dental services visit their website at http://www.nylasergumsurgery.com and call (347) 694-4342.