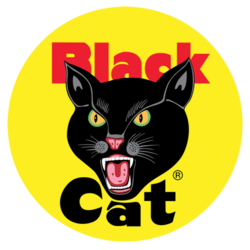 Black Cat is the Best You Can Get!
Prairie Village, KS (PRWEB) September 28, 2012
Black Cat Fireworks® with its partners Winco Fireworks, International, Stateline Fireworks of Texarkana, AR and American Fireworks of Bastrop, TX is sponsoring the first annual Texas Statewide Fireworks Convention. This event is being held October 13th and 14th in Granbury, TX. Up to 400 Texas fireworks retailers and wholesalers are expected to attend representing interests from the Texas Pyrotechnic Association and the Texas Fireworks Association.
Activities will include a reception on Friday night, general membership meetings Saturday and Sunday morning, breakout sessions Saturday afternoon with presentations by Black Cat® Marketing, the National Council on Fireworks Safety, and a workshop on Working with state and local legislative issues.
Saturday night Black Cat Fireworks® will provide a demonstration of its 2013 new product line followed by a special consumer fireworks display and finale. An local crowd of up to 10,000 people are expected to come out and enjoy the fireworks. Black Cat® Fireworks is very honored by this opportunity and thanks the Granbury community for all of its support.
About Black Cat® Fireworks:
For the past 60 years, Black Cat® Fireworks has been the #1 most recognized fireworks brand in America. The Black Cat® brand was introduced in the U.S. in the 1940s and is now the oldest and most highly recognized fireworks brand in the country. Black Cat® has evolved from the basic firecrackers to a product line that today contains over 500 items. Continued focus on quality, safety and innovation has made Black Cat® an international brand, with presence in markets all around the world. For more information, visit the Black Cat® Fireworks site, http://www.BlackCatFireworks.com.