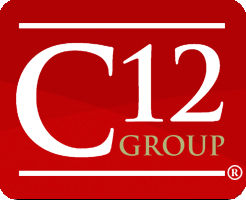 Greensboro, NC (PRWEB) September 27, 2012
Mike Gallagher of The Mike Gallagher Show, one of the most consistently popular programs on national radio and the 6th most-listened-to radio host in America with millions of weekly listeners, interviews Don Barefoot, President and CEO of The C12 Group. Mr. Barefoot discusses with Mike C12's valuable impact in serving Christian CEOs and business owners across America, and each CEO's opportunity to cast God-honoring vision, purpose, and core values through their business.
The C12 Group is celebrating its 20th year as America's leading equipper of Christian chief executives through its peer CEO roundtables and cutting-edge business and ministry resources. C12 is a growing national network of 1000+ members across 75 U.S. metro areas. Each group is comprised of 10-15 non-competing Christian CEOs seeking to grow professionally and spiritually while sharpening their leadership. Annual revenues of companies represented in C12 membership range from one million to more than one billion dollars. C12 members enjoy targeted life-long learning, interaction with peer executives, and C12's proven "best practice" business and ministry materials that incorporate cutting-edge management thinking consistent with Biblical principles. This produces a superior business result in both good and bad economic times, while blessing a company's thousands of stakeholders along the way.
The Mike Gallagher Show, a syndicated talk radio show is a blend of timely political commentary, compelling talk and terrific discussions on social issues and lifestyle topics. Talker's Magazine estimates that 4 million listeners across America tune in weekly—and the show is now heard on over 170 stations across the country. The interview can be heard September 25 through November 6, 2012 by clicking the following link http://www.mikeonline.com.
The C12 Group was founded in 1992 by Buck Jacobs, a dedicated Christian CEO and author. C12 is growing network of more than 1000 members in 75 metro areas across America, working together to "Build GREAT Businesses for a GREATER Purpose."
# # #
If you would like more information on The C12 Group, please visit http://www.C12Group.com or contact C12's Home Office (336-841-7100 or info(at)C12Group.com).
The C12 Group
4101 Piedmont Parkway
Greensboro, NC 27410
Phone: 336-841-7100
info(at)C12Group.com
http://www.C12Group.com