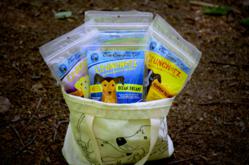 My advice to pet lovers is to buy American made treats and support our own farmers, ranchers, and manufacturers.
Wilton, CT (PRWEB) September 28, 2012
"Why not buy American?" was the bottom line advice from pet nutritionist and author Anthony Bennie of Clear Conscience Pet in a recent national radio interview. Bennie and radio journalist Deborah Wolfe spoke about the rising tide of complaints about illnesses of dogs being linked to consumption of Chinese chicken jerky style dog treats, as seen in this NBC News article. The discussion occurred during an extensive interview covering a wide range of pet nutrition topics during Wolfe's program on All Paws Pet Talk Radio, a nationally syndicated radio network.
"No one has identified any 'smoking gun' causing these illnesses, so it would be premature to declare that Chinese chicken jerky is responsible. But one's heart has to go out to those with sick dogs, and those whose dogs have been affected find it impossible to ignore the fact that so many illnesses have this one factor in common," said Bennie after the interview.
The complaints about these products have included vomiting, diarrhea, kidney failure, and deaths of some dogs. Lawsuits have been filed by some consumers and these allegations have been taken seriously enough to prompt the U.S. Food and Drug Administration to investigate. But it was reported in August that investigators dispatched to China in April by the FDA were rebuffed in their attempts to conduct thorough inspections, including their requests to draw random samples from four of the many Chinese plants that manufacture these treats. The Chinese authorities cited "national sovereignty" in refusing to allow the inspectors to draw random samples from the plants and have them returned to the United States for testing in FDA laboratories.
"It's hard to believe the FDA would send a team of inspectors over to China without first getting a guarantee that they could bring samples back," said U.S. Congressman Dennis Kucinich of Ohio, an outspoken consumer advocate in the House of Representatives who has been tracking the jerky problem. "They're doing nothing of consequence. The FDA's tone-deaf on this one."
Bennie of Clear Conscience Pet expressed his feelings on the issue by saying, "it's hard to grasp the reality that our family dogs can be affected by the politics of global trade; but one can't ignore the reality that China is the largest holder of U.S. debt and the beneficiary of an average $20 billion per month trade surplus from American consumers, and that gives the Chinese a disproportionate and unhealthy amount of power in the economic relationship between our nations.
"I am a pet nutritionist, not a politician, but when I hear that legitimate concerns about animal health are dismissed so casually by those in charge of Chinese factories that we are supporting with our pet care dollars, it certainly puts me on alert that there is something here that requires our very close attention. My advice to pet lovers is to buy American made treats and support our own farmers, ranchers, and manufacturers. At least we know that there is no 'veil of secrecy' insulating American manufacturers from oversight. You can bet that if an American made product is suspected of causing pet illness, we'll have the full force of the USDA coming down on us in a heartbeat. And that's the way it should be. Our companion animals are family members and they deserve nothing less than the healthiest and safest food and treats we can give them."
Irradiation is a "wild card" factors that concerns Bennie. The practice is nearly universal as a method to help eliminate pathogens in Chinese and some other imported pet treats. "Let's face it, using radiation as a way of supposedly making treats safer doesn't inspire a warm and fuzzy feeling among American pet lovers, especially those who embrace a more natural food philosophy for themselves and their pets. But irradiation is hardly ever mentioned in these discussions. That causes me to wonder why this is being swept under the rug or whether American treat buyers even know it's such a common practice in China. When I spoke to a Chinese manufacturer at a trade show last year, he was very proud that the irradiation method was used on all of his products. But only some packaging I have seen actually states this. At the very least, it should be disclosed so consumers can make their own decisions as to whether they want products handled in this way."
Chinese imports command a growing share of the American pet treat market. Virtually all of the largest companies in the mass market pet treat segment have made these products a key part of their retail strategy. "I know from personal experience in operating Clear Conscience Pet that it is far more expensive to use only American sources and make every product we sell here in the USA. We and other small family-owned manufacturers are struggling to be profitable in a highly competitive marketplace, and I am sure it is tempting for some to be lured by the dramatically lower costs of these imports. I could buy finished products ready to put in a pretty bag and virtually double my profit margins overnight- but I won't ever compromise animal health and safety for higher profits. We and many other respected family-owned American companies are fighting the good fight; all we ask is that consumers realize that we have to charge more to keep our heads above water and give them a pure, clean, and wholesome product so they can truly "treat with clear conscience."
# # #
About Clear Conscience Pet®, LLC
Clear Conscience Pet® is a multiple award winning pet nutrition company founded with the mission of using ingredients from sustainable family farms to make exceptionally healthy treats, chews, and the SuperGravy line of pet food enhancing gravies. The company's current products include the patent pending OSV™ treat and chew line, SuperGravy®, the first Holistic Instant Dry Gravy Mix and Nutrient Enhancer for pets, and Cruncherz™ Gluten & Grain-Free Bakery Treats. The company is based in Wilton, Connecticut and is family-owned by Founders Anthony Bennie and Amanda Malone Bennie. They currently market their pet food products to pet supply retailers, veterinarians, health food stores, and other pet specialty outlets.
Web address: http://www.clearconsciencepet.com
Facebook page: http://www.facebook.com/Clear.Conscience.Pet.LLC
Video interviews with Founder, Anthony Bennie: visit:
http://www.clearconsciencepet.com/ccp-tv