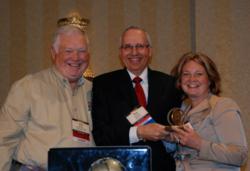 the overall rating for the training function was a 90 percent approval rating. We're proud to have reached that level of appreciation and support from our franchisees.
Minneapolis, MN (PRWEB) September 29, 2012
As manager of learning and development for Shell Oil Company, Ken Barber is responsible for overseeing training for more than 2000 franchisee-owned service centers for Jiffy Lube International. Because of its commitment to and successful implementation of participant-centered training, JLI was named a 2012 Pike's Peak Performance Award winners, one of only two recipients this year.
JLI's training function began its award-winning climb back in 2004 as it changed from videos and manuals to computer-based and now web-based training. "When I first got into training, I took classes from a number of companies to learn presentation skills. By far the best was from The Bob Pike Group, and ever since, I have gone back for help in training my people and for help in developing instructor-led training presentations and now virtual instructor-led training course development and delivery," Barber said.
Interactions in the instructor-led training are a key reflection of the training Jiffy Lube has valued from The Bob Pike Group. "When I came into this position in July 2006, I knew that I wanted to adopt the Bob Pike philosophy of adult learning and participant-learning experiences," Barber said. Since Barber came on board with Jiffy Lube, all field training personnel now go through BPG's Boot Camp Plus or Boot Camp and Business Presentation Skills"so everybody is on the same page as far as what we expect, how we want to conduct training," Barber said. "In addition to that, a couple of years ago, Becky Pluth audited all of our instructor-led training [ILT] courses and gave us pointers on how to improve our PowerPoint presentations and how to further improve the interactive experience for the student. As a result, at this point in time, we have a 4.94 out of 5.00 overall level 1 evaluation rating from our students. We feel that it's been extremely helpful in helping us get to a world class status."
JLI uses both classroom-based training, along with synchronous and asynchronous web-based training which JLI has found so critical in decreasing employee turnover for franchisees. "We know that there is a direct correlation between the number of certifications, the level of certifications, that an individual achieves and the length of service he or she typically has," Barber explained. "If we can have an employee plugged into a training program within the first 90 days, there's a very good probability he or she will stay for two years or longer because most of the turnover we experience is within the first 90 days."
The webinar phase of Jiffy Lube University is now being piloted. When we began this process, "we realized two things: First, virtual instructor-led training (VILT) classes are different from instructor-led training classes and, second, we are not expert in VILT set up or delivery. As a result, we needed help from experts and turned to The Bob Pike Group because of the confidence and past experiences."
The webinar classes, which have been designed with engagement techniques for high participant interactivity, are now being piloted. "We intend to measure the following: Level 1 Student evaluations on the quality of the instruction, content, and overall experience. We will also measure the technical challenges and look at the before and after business metrics to determine the business impact," Barber said. "We expect when fully implemented this will save us over $500,000 annually."
JLU has won numerous awards for its training, both in the automotive and training industries and can now add the Pike's Peak Award to its list. JLU is a certified training provider with ASE and can now offer seven hours of college credit with ACE accreditation for its courses. It has also been a recipient of Training magazine's Top 125 awards for two years in a row, with a special achievement award this year for outstanding initiative. The work that Pluth did on our ILT content, the PowerPoints, the delivery, "That was just one of the things we did as part of our self-improvement process," Barber said. "We know that contributed to that special recognition. Only five companies received that award this year."
Another key factor for their awards was the ability to tie training into key business metrics. JLU could "correlate our improvement from customer service scores for six consecutive years, [and show that] ticket averages are 18 percent above industry average and have improved for six consecutive years," Barber said.
"The most important statistic was that our franchisees rate every department of Jiffy Lube International for how well we meet their needs, and the training function, for the second consecutive year, had the highest rating of any division of Jiffy Lube," Barber said. In 2011, "the overall rating for the training function was a 90 percent approval rating. We're proud to have reached that level of appreciation and support from our franchisees."
Pike's Peak Award winners are nominated by colleagues, other learning professionals or The Bob Pike Group training consultants.
About The Bob Pike Group
The Bob Pike Group has provided train the trainer workshops and consulting services to individuals and corporations for more than 30 years. Bob Pike is the pioneer of the participant-centered training method and has a well-earned reputation as "the trainer's trainer." More than 125,000 people have gone through his Creative Training Techniques Boot Camp and more than 200,000 copies of his Creative Training Techniques® Handbook have been sold. There simply is no one in the training industry as well known and respected as Bob Pike. The Bob Pike Group trainers take those same methods and passion for learning and funnel them into interactive sessions in any training platform or mentoring format.