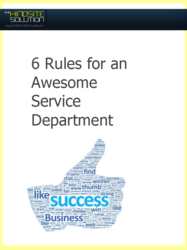 I wrote this eBook to help other field service businesses learn what I learned.
St. Paul, MN (PRWEB) September 29, 2012
There are literally millions of field service management businesses in the United States. Whether it's an HVAC business or a snow plowing business, field technicians are the face of a field service organization. And with so much competition, it's vital that field service businesses develop a service department that wows customers.
To help, HindSite Software has just released a new eBook, 6 Rules for an Awesome Service Department. In it HindSite's president and founder, David Crary, discusses six things a business' field staff can do to improve service, and by extension, the business.
"I owned an irrigation business for more than a decade," Crary explains. "I realized how important it is to have professional, competent and customer-focused field technicians. I wrote this eBook to help other field service businesses learn what I learned."
Each chapter in the book examines a simple way field service techs can deliver exceptional customer service and make a great impression. Additionally, each chapter ends with an actionable recommendation field service businesses can institute to improve their service department.
The free eBook is perfect for field service contractors looking to gain a competitive advantage by delivering customer-centric services. As one of the first companies to deliver mobile field service software that enables paperless field data collection, HindSite is uniquely qualified to comment on ways businesses can improve their service in the field.
As Crary relates, "Our goal is to help small field service businesses grow and become more profitable. Field service software like HindSite is part of the equation, but business owners also need to focus on ensuring their field technicians deliver service that wows their customers. This eBook can help get them thinking of ways to improve their current processes."
Visit http://www.hindsitesoftware.com/6-rules-for-an-awesome-service-department.cfm to download the eBook.
About HindSite Software
HindSite Software has helped contractors better manage and grow their business with field service software since 2001. Designed by an irrigation contractor, HindSite assists service businesses with scheduling, contact management, field data collection (e.g. mobile field service software), and invoicing in QuickBooks®, Sage Peachtree®, and Simply Accounting®. This paperless work order management software has been proven to increase efficiency and organization, meaning greater profit potential with less administrative time.