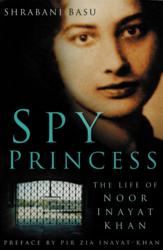 Los Angeles, CA (PRWEB) September 27, 2012
Zafar Hai and Tabrez Noorani announced today that they have acquired the film rights to the book "Spy Princess: The Life of Noor Inayat Khan" by Shrabani Basu.
"Spy Princess" is Basu's second book and tells the remarkable story of a heroic woman, Noor Inayat Khan, code name "Madeleine." Trained by Britain's Special Operations Executive, she was the first female wireless operator to be flown into occupied France during WWII, being infiltrated into the Paris area, where within days of her arrival almost her entire circuit was arrested by the Gestapo, making 'poste-Madeleine' the last radio link between France and England. The book details Noor's life from her birth in 1914 in Moscow to an American mother and an Indian Muslim father who founded the first Sufi Order in the West, through her death at the hands of the Gestapo in 1944. It has been called one of World War II's most inspirational stories.
Shrabani Basu's third book, "Victoria & Abdul: The True Story of the Queen's Closest Confidant" was optioned by Working Title last year. She is an Indian-born journalist turned author/historian, with three books to her credit.
Zafar Hai, the managing partner of Haimark Films International, is renowned for his work in India and overseas on numerous TV commercials, corporate image films, and documentaries. He has won India's National Award for Best Documentary on two occasions and also twice won the prestigious Filmfare Award, India's equivalent of the Oscar, for his films "Transformations" and "Experience India." He has also directed the Merchant Ivory Productions film "The Perfect Murder," starring Naseeruddin Shah and Stellan Skarsgård.
Noorani came to the film industry's attention with line producing work on the Academy Award winning "Slumdog Millionaire." His company, India Take One Productions, has worked on such films as Oliver Stone's "Alexander," and "Mission: Impossible – Ghost Protocol," along with several others. Later this year, Noorani has two films helmed by Academy Award winners releasing the much anticipated "Life of Pi" by Ang Lee and Kathryn Bigelow's highly controversial political thriller about the hunt for Osama Bin Laden, "Zero Dark Thirty."
Hai and Noorani are shortly scheduled to visit London for talks with leading British screenwriters in connection with the screenplay of the film.
They are represented by Julia Scott of Rufus-Isaacs, Acland & Grantham, LLP.