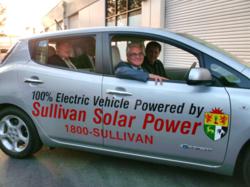 Companies like Sullivan make solar not an idle opportunity, but to make it happen. We are delighted to welcome Sullivan Solar Power into Riverside and the Inland Empire.
Riverside, Calif. (PRWEB) September 27, 2012
Sullivan Solar Power, a leading Southern California renewable energy company, opened a new office in Riverside with a VIP Reception on Wednesday. Attendees included elected and city officials, labor, business, and community leaders. The company opened its new location in response to increasing demand for residential and commercial solar within the Inland Empire market. At the event, Sullivan Solar Power showcased an electric vehicle to demonstrate the marriage of solar power and electric cars.
"The future is upon us today with the technology we have available right now," said Daniel Sullivan, founder and president of Sullivan Solar Power, "Between electric cars and solar power, we can declare energy independence and put ourselves to work in thousands upon thousands of people."
As part of this strategic expansion into the new territory, Sullivan Solar Power has hired eight new employees. Centrally located at 2025 Chicago Ave. in Riverside, the 1,872-square-foot facility will house administrative offices and a warehouse to better serve the Inland Empire.
"It is our goal to help the City of Riverside and the Inland Empire reach its renewable energy potential and help free ourselves from the strangle hold that fossil fuel has on our economy," said Sullivan.
Sullivan Solar Power was founded in 2004 by Daniel Sullivan with a dream, working out of a garage with only $2,500 in the bank. From that dream, Sullivan Solar Power has grown into one of the fastest growing companies in the country for three consecutive years, according to Inc. Magazine. Over the last month, the company has created 19 new green jobs in Southern California.
"A number of years ago we said we wanted to be the model solar community, not simply in neighboring cities, but in Southern California," said Riverside Mayor Ronald O. Loveridge, "Companies like Sullivan make solar not an idle opportunity, but to make it happen. We are delighted to welcome Sullivan Solar Power into Riverside and the Inland Empire."
Sullivan Solar Power recently completed successful solar programs in Temecula and Murrieta, which created the largest collective deployments of residential solar in each city's history. The new office will also develop future installations for the recently launched Corona Solar Program. Now available exclusively to 100 Corona, Eastvale and Norco residents through Nov. 16, the program offers participants up to $2,000 in cash-back incentives during the first phase.
Residents may attend a free solar luncheon at the Corona Civic Center at 815 W. 6th St. to learn more about solar technology and available rebates. The one-hour presentation will be held on Saturday, Oct. 20 at 11 a.m. For more information about the Corona Solar Program, call 1-800-SULLIVAN or visit http://www.coronasolarprogram.org.
About Sullivan Solar Power
Sullivan Solar Power is a turnkey solar system provider that delivers solar electric projects from concept to completion with offices in Orange, Riverside and San Diego counties. The company has installed more than 10 million watts of solar power ranging from residential to large commercial and municipal systems. Sullivan Solar Power has a longstanding A-plus rating with the Better Business Bureau, with no complaints filed since its founding in 2004. The firm has been named one of the nation's fastest growing energy companies by Inc. Magazine and services clients throughout Southern California. Regardless of project size and scope, Sullivan is committed to delivering the best products provided by the most qualified professionals to every customer. Visit sullivansolarpower.com for more information.
###