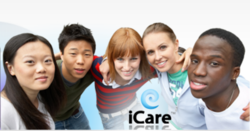 a groundbreaking platform that is the best investment a district can make in its students!
Kansas City, MO and Ottawa, ON (PRWEB) September 28, 2012
The system, called iCare™, is aimed at empowering youth and creating a culture of caring in school communities.
"iCare is a comprehensive program that includes a technology app for mobile devices, allowing students and teachers to report and reward behaviors encountered every day," said Julie Abbott, CEO of 3D-ED.
3D-ED and Media-X believe iCare will be the program of choice for school leaders who really want to make a difference in their communities. Dr. Kevin Snyder, Education Administrator from North Carolina, agrees the iCare approach will have impact.
"Other programs are ineffective because they typically focus on one social issue, (i.e. bullying), or one solution, (i.e. offering an application, a telephone "hotline", a text messaging service, or a one-day training)," said Dr. Snyder. "iCare is a versatile program which also addresses cultural development and community awareness."
He also believes that iCare will be an important, even "groundbreaking" platform that will become a mission critical investment for districts to make for their students.
Steve Moretti, President/CEO of Media-X Systems said the program will also reduce staff workloads.
"iCare is easy to use, intuitive and extremely visual. Allowing students to report with their smart phone directly and securely to their school, gives campus staff a tremendous advantage in identifying issues and recognizing positive behaviour quickly," he said.
iCare will be launched October 1 and will be featured at the International Bullying Conference to be held in Kansas City in November.
More information
3DimensionED
Julie Abbott, CEO
http://www.3d-ed.com
3D-ED provides customized consulting services and programs to the education market and is based in Kansas City, Missouri. 3D-ED help school systems to effectively implement communications, technology and customer service programs, and concentrate on three key elements: leadership, training and assessment.
Media-X
Steve Moretti, CEO
http://www.media-x.com
Media-X Systems is a software development company based in Ottawa, Ontario. Media-X has created a number of innovative mobile / web based systems including eWalk and mVal which are used through the US and Canada for classroom observations and staff evaluations.
###