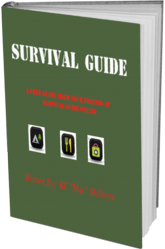 I wasn't sure what steps to take unitl I read The Three Day Guide...
(PRWEB) September 29, 2012
Survival Plan Online announces the release of their "Three Day Survival Guide." Putting useful survival information into the hands of our fellow citizens is the driving force behind the writing of this guide. It is complimentary and contains checklist, resources, advice and other useful information in preparing for the next crisis. Whether it's a man made disaster, hurricane, tornado, power outage or other event served up by mother nature, the steps covered in this guide will put the tools and knowledge in the hands of the average person and get them well on the road to being prepared.
Concerned over what the authors see as a definite increase in natural disaster threats and man made crisis situations, the authors bring their over twenty years of domestic operations, public safety and defense department experience to bare on this problem of prepping for the next disaster. Making sure that the guide and articles are written in layman's terms and are easy to carry out.
The guide was created in response to numerous requests from the public to put easy to follow checklist, guides and articles in the hands of those who have never received any kind of training in preparing for a crisis. Not written to the Rambo's out there, the information covers the basics of getting a family ready for what comes next.
Here is what a few of the people who have read the "Three Day Survival Guide" are saying. "I wanted to thank Mac and KL for getting this information into our hands, I am definitely going to do more to be prepared," said George G. a former Navy Fighter Pilot. "I wasn't sure what steps to take in order to prepare for any kind of disaster until I read the "Three Day Survival Guide," said Linda D.
Looking at the most recent news we have Occupy Wall Street, the Arab Spring, the Embassy situations in the Middle East. Being a prepper is not a matter of being a fanatic, it's about being prepared. No one can predict the future so being prepared is a step in the right direction. Survival Plan Online has done a good job of getting easy to use and easy to follow instructions into the hands of those who need it most. To find out more visit Survival Plan Online.
To get your complementary copy of the "Three Day Survival Guide" visit http://www.survivalplanonline.com/freeguideoi