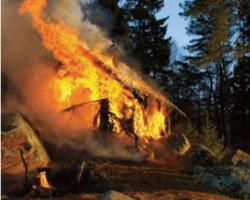 "2012 has been a very destructive fire season and the risk of additional fires still persists. Take the time to update insurance policies and compile a home inventory," said Christopher Hackett, PCI director for personal lines.
Sacramento, CA (PRWEB) September 27, 2012
Harmful fires in Central Washington, San Diego County California and other Western states are the latest reminders that wildfire risk continues as a threat and now is the time take some simple steps to prepare and prevent losses, says the Property Casualty Insurers Association of America (PCI).
A recent study by the Insurance Information Network of California and Verisk Insurance Solutions – Underwriting concluded that more than 2 million California homes are at risk for extreme wildfire hazards. The majority of high-risk homes are located in Southern California but homes located in rural areas and in Northern California face serious risk as well based on fuels, slope and access to the property.
"2012 has been a very destructive fire season and the risk of additional fires still persists. It is not uncommon for dangerous wind driven firestorms to occur in the months of October and November in California. Renters and homeowners should take the time to update insurance policies with companies or agents, compile a home inventory detailing personal possessions, remove brush around the property, and clear drains of debris to reduce fire risk," said Christopher Hackett, PCI director for personal lines policy. "Unfortunately, a resident in San Diego County did not make it out when local officials issued evacuation warnings. This is a sad reminder that homeowners and renters should make a family evacuation plan and know what to do and where to go when a fire breaks out. Always heed evacuation warnings and move to a safer location."
The National Interagency Fire Center (NIFC) located in Boise Idaho reports fire fighters have battled more than 47,000 wildfires, scorching 8.7 million acres as of September 25, 2012. Large fires continue to actively burn in California, Colorado, Idaho, North Dakota, Oregon, Washington and Wyoming.
"Despite the impending fall weather, many areas continue under serious threat of wildfire. We can't control the amount of rain or number of lightning strikes that impact the risk of catastrophic wildfires. However, residents can take precautions to reduce the risk of wildfires by completely extinguishing campground fires, responsibly managing barbeque grills, and properly disposing of cigarettes," said Hackett. "There is no time like the present for residents to reduce their risk both financially and physically. People that previously owned their homes but are now renting should consider renters coverage to protect their personal belongings. Seniors that have paid off their homes should make sure to maintain homeowners insurance so they could rebuild if a fire hits. The effort made now can make a big difference later."
Wildfire Preparedness Tips:

Review Your Policy Regularly – Review your property insurance policy with your insurance company or agent. If you have recently remodeled or built a new addition onto your property, be sure to increase the amount of protection to cover the changes to the property. If your home is paid off, be sure to maintain coverage.
Keep an Inventory − To speed claims processing, keep an inventory of your possessions and photograph or videotape them for documentation purposes. After a fire, list the items that were destroyed or damaged along with a brief description that includes receipts, appraisals, and the age, current value, make, model and serial number of items.
Create Defensive Space − For those living in high fire hazard areas, the best protection is defensive space. Clear the land around dwellings of all vegetation. Experts recommend that the cleared area extend at least 100 feet from the dwelling in all directions.
More Resources:
PCI Member Company Toll Free Claim Numbers
http://www.pciaa.net/web/sitehome.nsf/lcpublic/176/$file/Wildfire_Prep_TollFree_Nos.pdf
Insurance Tips for Financially Preparing for Wildfires
http://www.pciaa.net/web/sitehome.nsf/lcpublic/176/$file/Wildfire_Prep_Financial.pdf
Tips on How to Physically Prepare for Wildfire Season
http://www.pciaa.net/web/sitehome.nsf/lcpublic/176/$file/Wildfire_Prep_Physical.pdf
PCI is composed of more than 1,000 member companies, representing the broadest cross-section of insurers of any national trade association. PCI members write over $190 billion in annual premium, 40 percent of the nation's property casualty insurance. Member companies write 46 percent of the U.S. automobile insurance market, 32 percent of the homeowners market, 38 percent of the commercial property and liability market, and 41 percent of the private workers compensation market.
Contact: Nicole Mahrt Ganley
Phone: 916-440-1116 or 916-616-5855
Email: nicole.mahrt (at) pciaa (dot) net