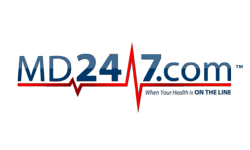 MD247 Reviews Telemedicine.
Tampa Florida (PRWEB) September 27, 2012
Seminole Florida based telemedicine specialist MD247 launched an "open door" policy, allowing local and national print media an all access pass to information regarding the discounted medical provider. The MD247 invitation to local and national media was issued in response to an evolving customer care program. The addition of an open door policy for the media is meant to provide reporters, bloggers and journalists the opportunity to have an all access behind the scenes pass that does not require that facts be checked using unreliable resources.
Members of the media opting to contact MD247 to learn more about the MD247.COM program will have the opportunity to learn more about the history telemedicine, where the field of telehealth is going in the future and how the field will change the medical frontier. In addition to learning about telemedicine, journalists will be walked through subjects like the "ask a doctor" hotline for symptom checking and the discounted pharmaceutical program. MD247 management will also address complaints filed on websites like Ripoff Report, and the way in which the changes to MD247 customer care are meant to catch problems before they escalate to the point of nameless complaints.
MD247 encourages members of the media with questions to please make initial contact via the MD247 Facebook Business Page.
Seminole Florida based MD247 (MD 247; MD/247; M.D. 247; MD247.COM) provides discounted telemedicine healthcare services nationwide to families, and discounted wholesale telemedicine healthcare to businesses. MD247 has successfully provided 25,000 people the ability to talk to a doctor twenty-four hours a day, talk to a nurse twenty-four hours a day, receive discounted prescription drugs and receive discounted in-person healthcare services. MD247 also promotes use of social media to follow the company on Facebook at http://www.facebook.com/md247dotcom, or on Twitter at http://www.twitter.com/md247dotcom. In addition to discounted healthcare services, MD247 provides support to groups supporting the employment of veterans of the United States Armed Services. MD247 services, as well as informational blogs, can be found for review online at http://www.md247.com.