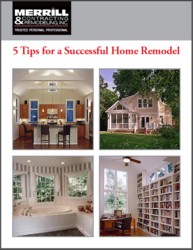 The home remodeling tips we offer are universal.
Arlington, Virginia (PRWEB) September 30, 2012
Northern Virginia home remodeling company Merrill Contracting & Remodeling, Inc. announced the release of the newest edition of its popular consumer e-guide to home remodeling. The e-guide "5 Tips for a Successful Home Remodel" is now available free for homeowners to download at http://www.merrillcontracting.com.
The e-guide includes useful tips that help homeowners have better home remodeling experiences, such as the importance of selecting the right remodeling contractor. The homeowner e-guide to successful remodeling provides links to pages on the Merrill Contracting & Remodeling website where additional and more detailed information can be found, such as methods of setting home remodeling project priorities, specific questions to ask contractors and references, and red flags to look out for when selecting a remodeling contractor as well as other tips about remodeling.
David Merrill, president of Merrill Contracting & Remodeling commented "Perhaps the single most important decision a homeowner makes that affects the success of a remodeling project and the nature of the home remodeling experience is the selection of the contractor they use. It's not always easy to determine what company will be best. Some of the secrets in our new e-guide, and articles they link to at our website, will help homeowners learn how to determine if the company they are considering for their remodel is right for them, their project, and their budget." Merrill also said, "While our company only works in Northern Virginia our homeowners guide would be helpful to any homeowner in the country planning a remodeling project. The home remodeling tips we offer are universal."
Located in Arlington, Virginia, Merrill Contracting & Remodeling provides design build home remodeling services to homeowners in Arlington, Alexandria, Falls Church, McLean and other areas in Northern Virginia. The company provides architectural design and construction services for projects such as whole house remodels, home additions, kitchens, bathrooms, basement finishing, green remodeling, interior and exterior remodeling, as well as other home remodeling projects.