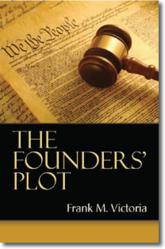 "I like books, even fiction that teach me something"
Chicago, IL (PRWEB) September 29, 2012
About 11.5 million illegal immigrants live in the United States, according to 2011 data from the Department of Homeland Security. With a presidential election looming and an unforgiving economy, illegal immigration, government intrigue and constitutional interpretation remain hot-button issues.
These topics are at the forefront of author Frank M. Victoria's political thriller, The Founders' Plot. Much insight can be gained about current events through works of fiction, putting a human face on otherwise abstract circumstances, he says.
The storyline has a newly elected governor of California push through a tough illegal immigration law that the Supreme Court declares unconstitutional. But the decorated Vietnam vet ignores the ruling and continues to enforce the law, igniting a clash between federal, state, and judicial power that threatens to jar the country's political and justice systems. And it leaves the governor's long-time friend, the President of the United States, with the decision of whether to federalize the state's National Guard to enforce the Court's order.
Battling the governor is a savvy member of the opposition party. An expert in back room legislative machinations, she'll go to any length to force the governor to obey the Court decision, and her devious maneuvers throw his personal and professional life into turmoil. As these forces clash, tragedy befalls two Mexican families, in the country illegally, as they grapple with how to survive in the hypertensive environment created by the new immigration law.
Victoria taught American history and government in Chicago public schools for 16 years, and there's plenty of historical and legal information presented in The Founders' Plot to justify the governor's actions. "I like books, even fiction that teach me something, and I think a lot of people are the same," he says.
With a compelling narrative, action-packed scenes and historically accurate information, The Founders' Plot delves into a very real, long-standing debate that hits close to home for many Americans.
For more information, visit frankvictoria.com.
The Founders' Plot
By Frank M. Victoria
ISBN: 978-0-984d6559-0-8
Approx. 350 pages
Paperback 6x9
Retail price: $14.95
E-book price: $1.99
Available at Amazon, Barnes & Noble, Atlas Books
About the author
Frank Victoria was born and raised in Chicago, and now lives with his wife in Oak Lawn, a suburb of that city. He served in the Marine Corps and graduated with a bachelor's degree in journalism from Northern Illinois University. He spent more than 20 years as a professional writer and editor, most recently serving as editorial director for three magazines that cover the oil marketing industry. Victoria has won seven local and national awards for his writing and magazine design. In 1990, he transitioned to his career in education. Victoria is now working on a non-fiction book about education, another novel and two screenplays.