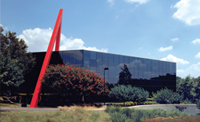 Austin, Texas (PRWEB) September 28, 2012
Nomadesk, the leading developer of business-class file sharing software, happily relocated offices in Austin, Texas this September to the classy Westech 360 building complex on Capital of Texas Highway.
"We added a lot of new staff in the US, and we were almost sitting on top of each other at one point in our old office," says Darren Trumeter, Nomadesk CEO. "Moving an entire office is never an easy process, but it was well worth the effort. Our team is really happy with the new space, and they deserve the upgrade."
Nomadesk's new office has almost tripled their floor space to make room for many new employees hired over the last six months. Located in northwest Austin, it is an open layout with views of the Steck Valley Park. The space is newly furnished in a modern theme, a large break room with two refrigerators, and plans for a Ping-Pong table for entertainment.
With the growing number of virtual offices and traveling workers, there is an increased need for mobility of data and the ability to share files online. Unlike most cloud computing applications, Nomadesk users can view and edit files on-the-go, even with no internet connection. Nomadesk's private cloud option provides intuitive software for employees to use, without losing control over company data. The on-premises solution gives enterprises a superior level of flexibility and security, as well as added functionality with customizable features.
Nomadesk is a leading provider of file sharing software, including private cloud for businesses, that enables users to share files virtually with unlimited storage. Customers can access, share, synchronize and safeguard files from any location, whether online or offline. With offices in Ghent, Belgium, Austin, Texas and Singapore, Nomadesk delivers their product around the globe. Nomadesk offers a comprehensive partnership program for software sales firms, and provides on premises cloud solutions for some of the largest business consulting firms in the world.