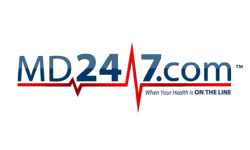 MD247 Reviews Telemedicine For The Masses.
Tampa Florida (PRWEB) September 29, 2012
Telemedicine is a difficult topic for the average person to grasp, and equally difficult for medical professionals to immediately adopt. Telemedicine provider MD247 understands that, and issued an easy to understand series of notes on Monday regarding telemedicine and why it is growing in popularity.
Telemedicine provider MD247 explains telemedicine has been rapidly growing because it offers three fundamental benefits:
1.Telemedicine Provides Improved Access:
Telemedicine has been allowing patients in distant locations to experience top-notch medical care for years, and now that same technology is being employed to allow physicians and facilities to expand into areas outside of their own offices.
2.Telemedicine Helps Promote Cost Efficiencies:
Reducing healthcare costs remains one of the top reasons for adopting telemedicine strategies. Telemedicine has been shown to reduce hospital readmissions, reduce unnecessary Emergency Room visits and reduce the wages lost in travel time to/from distant medical offices. The reality is that telemedicine is an elegant and economical solution to American healthcare costs.
3.Telemedicine Will Help Meet Patient Demand:
Consumers understand that telemedicine has the capacity to relieve stress on the family, save money and save time. This has left the United States with a market hungry for the personal satisfaction that having a telemedicine service available in their community will bring.
Seminole Florida based MD247 (MD 247; MD/247; M.D. 247; MD247.COM) provides discounted telemedicine healthcare services nationwide to families, and discounted wholesale telemedicine healthcare to businesses. MD247 has successfully provided 25,000 people the ability to talk to a doctor twenty-four hours a day, talk to a nurse twenty-four hours a day, receive discounted prescription drugs and receive discounted in-person healthcare services. In addition to discounted healthcare services, MD247 provides support to groups supporting the employment of veterans of the United States Armed Services. MD247 services, as well as informational blogs, can be found for review online at http://www.md247.com.