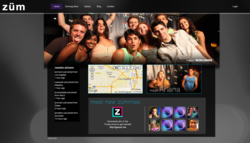 Los Angeles, CA (PRWEB) September 27, 2012
Just one month after the launch of züm, the popular "no-regrets" video messaging app from Divide Nine, the züm movement has taken off worldwide. In response to the incredible popularity of both the app and the "no –regrets" lifestyle, Divide Nine launched Successzüm.com today as an online community. Successzüm.com offers an immersing experience for users to meet and become a part of the züm movement.
Successzüm.com gives users the chance to purchase the züm bro-tanks that have been in high demand and spotted all over major metropolitan cities. The site also showcases recent züm events and will be the home base to keep up with the züm team as they embark on their nationwide college road trip later this year.
Perhaps the most exciting component of the site is the ability to meet new "zümmies", with profiles of the newest members to join züm featured on the homepage. Soon, zümmies will have the ability to login to the website, fill out their profile in greater detail, and interact with each other, making it possible to meet friends on züm with similar interests.
For those who haven't downloaded züm yet, links to the app store make it easy to join the züm movement via Successzüm.com.
"Due to the rapid growth of the app, and the exciting lifestyle movement we have seen surrounding züm, we wanted to give our users a place to call home online. We've had such a huge demand for our bro-tanks and we're thrilled to now be able to offer them to anyone. We think zümmies are going to love the features we have been working hard on building with more to come." says Nick Loui, co-creator of züm and Head of Interactive at Divide Nine.
züm is free and available now for iPhone and iPad in the iTunes app store, at http://gozum.me, and through Successzüm.com.
About the company behind züm, Divide Nine:
Krishna and Lisa Gopala founded Divide Nine in 2008 after successful tenures as executives at companies such as Phillips, MySpace, and Cafedirect. With a variety of projects in development including animated feature films, social platforms, and mobile games, Divide Nine has positioned themselves at the intersection of entertainment and technology in a visionary way. With a staff of seasoned, heavy hitting industry veterans combined with emerging, fresh talent, there's a buzz surrounding this company that makes them one to watch in the coming years. For more information visit dividenine.com.
Media Contact: Jenn Deese, Melrose PR, jenn(at)melrosepr(dot)com, 310-450-7960, melrosepr.com