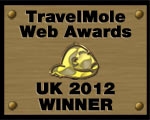 Norwich, Norfolk (PRWEB) September 29, 2012
Online travel and tourism community TravelMole named specialty travel company Holidays By Rail the "Best Rail Operator Site" in its 2012 UK Web Awards in a ceremony held on 26 September 2012 at the DoubleTree by Hilton Tower of London. The ninth annual awards recognise the best online content in the travel and tourism industry.
"We are honoured to have our online presence recognised within the UK travel industry," said Eric Hutchins, general manager of Holidays By Rail. "Our web site is the heart of the company, showcasing our breadth of product and all of the details necessary to aid travellers in selecting the perfect holiday based on their tastes and type of experience they wish to have."
Holidays By Rail offers the largest collection of worldwide independent train holidays, escorted rail tours, and tailor-made rail packages throughout the USA and Canada as well as European rail packages and luxury rail journeys to destinations around the globe. To view the company's complete product line, visit http://www.holidaysbyrail.com.
To book a rail holiday, contact a Holidays By Rail travel specialist at 0800 033 7960.
About Holidays By Rail:
Holidays By Rail is the one source for rail journeys throughout North America, Europe, and beyond. Travellers can select from the largest assortment of worldwide independent and escorted train holidays and luxury rail journeys as well as city breaks throughout Europe. For more information about Holidays By Rail and the company's products, visit http://www.holidaysbyrail.com or phone 0800 033 7960.