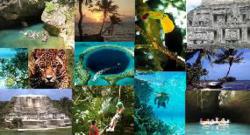 Ambergris Caye haven destination of adventure travelers
(PRWEB) September 28, 2012
In Ambergris Caye, there certainly is no shortage of absolutely fabulous ways for one to spend their time. However, Grand Colony Island Villas & Ambergris Caye is truly the definition of Luxurious Island Vacation because in fact, spending a vacation in a unique and a positively glamorous Island and Resort. Ambergris Caye and Grand Colony Island Villas puts vacationers in the heart of all adventures of what Belize has to provide, which in itself is a bit of a haven for Maya Ruins exploration enthusiast, jungle zip-liners, divers, snorkelers, families, water sports enthusiast and Cave exploration adventures acrobats alike.
Ambergris Caye & Grand Colony Island Villas is a jewel that needs to be explored, just within the few years Ambergris Caye has been in the spotlight as one of the top destinations to spend a vacation due to its enrichment of Mayan Culture, splendid beaches, Mayan Caves exploration, Barrier reef, Blue hole and many more. Ambergris Caye has recently been shown on several T.V Shows such as the Gene Simmons family jewels and it appeared when Gene Simmons proposed to his wife and recent T.V Show Bizarre Foods in travel channel with Andrew Zimmer.
Ambergris Caye is a tranquil beautiful island of approximately 11,000 residents and it is tropical and small and it is centrally located off the coast of the Belize. Belize Central America is an unexplored country that needs to be explored; Feel free to know more about ambergris Caye, Belize and Grand Colony Island Villas; the best time to travel to ambergris Caye to receive discounts is from July 1st through December 20, 2012.