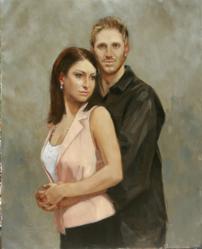 I like to think that what I do is to create heirlooms - one bride at a time.
New York City, NY (PRWEB) September 30, 2012
Today's luxury wedding planners prize originality as they constantly seek uniquely personal ways for the upscale bride to commemorate her wedding. Portrait painter Chris Saper, recognized internationally for her expertise on painting skin tones, has launched a new product line designed to do just that - bringing the time-honored tradition of the painted heirloom portrait to a modern market.
"While the wedding photographer and videographer are now mainstays of the standard wedding services package," says Saper, "the permanence and timeless quality of the fine art oil portrait transcends current trends in wedding events."
In addition to the engaged couple, parents, grandparents, and flower girls and ring bearers are special members of the bridal party - and their importance in the lives of the bride and groom make them naturals as portrait subjects.
Saper is a new member with http://www.theknot.com and http://www.weddingwire.com. Over the past 22 years, she has delivered nearly 400 commissioned portraits to clients nationwide. Saper has authored several books, most recently "Classic Portrait Painting in Oils: Keys to Mastering Diverse Skin Tones", filmed 4 DVDs, and is an active speaker, instructor and demonstrator.