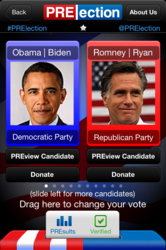 PRElection is as close to the actual ballot box as you can get.
Alpharetta, GA (PRWEB) September 27, 2012
What if millions of Americans could anonymously "pre-vote" weeks before the actual election, with a simple tap on their mobile device? We could change history!
APPS4Life has created a FREE app – "PRElection" – available in the app store, that allows voters to do this.
PRElection allows each voter to vote for any candidate in any race, but only one vote per device. The user can change their vote, but cannot vote multiple times for any candidate. PRElection also keeps track of voter demographics supplied by the voter, and can provide results across geographic, age, educational, ethnic, income and other categories. We even track registered and likely voters.
PRElection is not a poll. The PREsults are a continuous tally of the current vote of every PRElection App voter. PRElection is as close to the actual ballot box as you can get.
View or download the app in the appstore: http://itunes.apple.com/us/app/prelection/id559954385?ls=1&mt=8.
More information is available at our website: http://www.PRElectionApp.com or by calling Curt Renshaw at 404.791.6783.
Our goal is to have 100,000 voters with the PRElection app in hand for the fist Presidential debate to see how it affects the Presidential race. Get out the Vote! Tell everyone to download the free PRElection app.