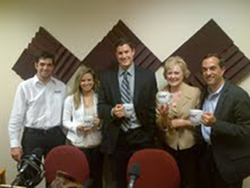 If you are in real estate in Atlanta, this is a must-go-to networking event.
Atlanta, GA (PRWEB) September 28, 2012
On September 26, 2012, Business RadioX™ welcomed Peter Pasternack to the microphone to host a special edition of Real Estate Atlanta to highlight the two-year anniversary of Real Estate Connections.
Real Estate Connections serves to facilitate a positive atmosphere where real estate professionals and real estate related industries in the Atlanta area can join forces to network and share ideas and strategies. Monthly gatherings are held for real estate professionals in Atlanta to meet. According to Pasternack, "The Real Estate Connections event for this month will be on Thursday, October 4, from 6pm-9pm, and it will be held at Aja, a modern Asian kitchen, located in the Alliance Center on Lenox Road. If you are in real estate in Atlanta this is a must-go-to networking event."
Peter Pasternack, from Foundation Designs, is one of Business RadioX™'s hosts and is also one of the stars of Flip This House, one of television's most recognized real estate investment and home renovation shows. His company designs, builds, and renovates residential and commercial property.
Joining Pasternack in the studio was Beverly Fenello,a Realtor® with Keller Williams Realty First Atlanta. She began her career as a Buyer's agent and worked for the top agent in her office for several years before establishing her own business. Fenello credits her success for selling listings to the ability to know what buyers want and create the "perfect" showing condition in order to entice them to buy. Fenello is an active member of the Atlanta Board of Realtors® and the Women's Council of Realtors® where she is currently serving as President-Elect for the Atlanta Chapter.
Also in the studio was Wesley Boyd and Ashley Testa. Boyd is with Wells Fargo Home Mortgage and has 12 years of experience in Retail and Wholesale areas of mortgage financing. Before joining Wells Fargo Home Mortgage, he worked for large financial institutions as well as small community lenders. Boyd has originated and approved thousands of mortgages. For the past two years, Testa has been the Director of Outside Sales and a top producer at the Lincoln-Wells Agency with Allstate Insurance. Her agency is ranked in the top 2% of the state and has a Retention Rate of 94%. The agency is very involved with Habitat for Humanity and sponsors multiple athletic programs in the community and in several school systems. Testa also serves as Vice President for the Legacy Park Networking Group, a local group of nearly 30 business leaders in her community.
For more details about Real Estate Connections, listen to a re-broadcast of this show at Real Estate Atlanta.
About Real Estate Atlanta Radio:
http://www.realestateatlanta/businessradiox.com
Each Wednesday at 3:00 pm Eastern, we interview Atlanta's Best Realtors® about the market, the profession, and their individual approach to serving clients.
About Business RadioX™:
Business RadioX™ provides a turnkey solution for business owners who want to leverage the power of internet radio to meet their best prospects, establish credibility for their organization and heighten the placement of their brand in search engines rankings. With a professional venue and a proven formula, Business RadioX™ helps hosts podcast their shows and create a regular stream of dynamic content to share with their prospects and feed the search engines every week. Programs are recorded and streamed live to the internet from our studios in the greater Atlanta area. For more information or to hear a live show, visit: http://www.businessradiox.com.