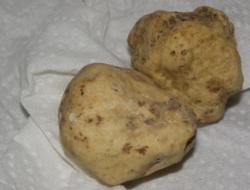 Reno, NV (PRWEB) September 28, 2012
According to Mirepoix USA, a leading online purveyor of specialty gourmet foods and traditional French foods, white truffles are typically imported to the US from Italy beginning in late September or early October. Due to unfavorable weather conditions, large, ripe white truffle specimens will not likely be available until mid October or later. Consumers who want to buy white truffle mushrooms will find limited supply and elevated prices in the next several weeks.
Experts agree, weather conditions in Italy have not been ideal for harvesting white truffles. The supply is extremely limited due to hot weather and a lack of rain in September, according to Urbani Truffles USA, one of the nation's larger truffle importers.
White truffles from Italy are the world's most expensive truffles, fetching as much as $350 per ounce. Even in ideal weather conditions, the extreme scarcity of white truffles plays a significant role in their cost. White truffles are much scarcer than any other type of truffle, and because they are impossible to cultivate, those that do exist must be found in the wild. Fresh white truffles can only be hunted and harvested during a very short season, typically beginning in October and extending only through December.
White truffles have an intense earthy, musky aroma that can perfume an entire room and a flavor somewhat reminiscent of shallots with hints of garlic and pepper on the palate. According to Mirepoix USA, white Truffles are best served raw because the intense flavor and fragrance is lost during the cooking process. Raw white truffles can be shaved on pasta, risotto, potatoes, eggs, sauces, or with poultry or other white meats such as rabbit or veal. White truffles also pair well with hard Italian cheeses, prosciutto and salami.
Mirepoix USA states that all truffles, including white truffles, should be wrapped in an absorbent cloth such as a paper towel and stored in an air-tight container in the refrigerator. The towel should be changed daily to avoid moisture collecting or mold developing. White truffles can lose up to 3% of their daily weight, and should be consumed within days of receiving them. For maximum flavor and aroma, white truffles should be used within one week of the harvest date.
All truffles grow in random locations as much as one foot below ground in the root system of the host trees and therefore must be discovered by the trained nose of a pig or dog. Dogs are more commonly used for truffle hunting today, as they can be more easily trained to simply find the truffles and not eat them.
Mirepoix USA sources the highest quality specialty gourmet foods and traditional French foods from manufacturers and importers across the United States. The company currently offers over 40 foie gras selections; fresh truffles including summer truffles, Burgundy truffles, Perigord black truffles and Alba white truffles as well as truffle based products; French charcuterie, and a wide selection of caviar. In recent years the online retailer has expanded product offerings to include Wagyu and US Kobe beef, French cheeses, and gourmet gift baskets and gourmet food.
To purchase fresh white truffles from Mirepoix USA, visit http://www.mirepoixusa.com or call 866-992-9559.