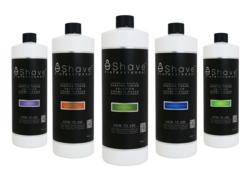 With this new Shave Cream Solution, professional barber's everywhere can offer clients a warm application of the industry's highest-quality shaving cream.
New York, NY (PRWEB) September 28, 2012
eShave, regarded as the top brand of award-winning, high-quality grooming products and accessories, is pleased to announce the launch of its new professional line, "eShave Professionnel," As part of the launch, eShave is introducing its new Shave Cream Solution, uniquely formulated exclusively for use with a professional lather machine. Over the next several months, the new line will grow to feature all of the brand's finest grooming products. Available for professional use only to salons, spas and professional barbershops offering luxury shaves worldwide.
Hot shaving lather softens the beard for a closer, more comfortable shave. With "eShave Professionnel's" new Shave Cream Solution, barbers everywhere can provide their clients with a warm application of the industry's highest-quality shaving cream at a comfortable temperature.
The base of the new Shave Cream Solution (33 oz) is eShave's super-concentrated and highly-lathering shave cream, free of animal ingredients, SLS, SLES and harmful Parabens. For the past two years, eShave has perfected this new solution, testing it out with their Master Barber at their eShave New York, Rockefeller location. Upon application from the lathering machine, the cream will be warm, maintaining the barber's initial hot-towel preparation. Skin will be primed and ready for an unbeatably smooth shave that one has to try to believe.
Professionals will receive a card with the eShave Luxury Shave Protocol and will have exclusive access to the "eShave Professionel" web page featuring the eSignature Shave demonstration video. The professional-only site can also be accessed instantly by snapping the QR code on the label supplied to partner barbers.
Choose from five modern scent collections:
Orange Sandalwood: Formulated with a creative blend of exotic botanicals delivering powerful therapeutic properties that rejuvenate, balance and tone the skin. The Orange Sandalwood Shave Cream offers a fresh clean scent that awakens the senses with every shave. For all skin types.
Verbena Lime: A naturally invigorating and rejuvenating tonic for the skin, eShave's Verbena Lime Shave Cream combines the stimulating properties of Lime and the soothing attributes of Verbena to awaken the senses as it soothes and energizes the skin in preparation for the day. Winner of "Men's Health Magazine's" "Best Shaving Cream of 2010." For all skin types.
White Tea: The ideal protection against the elements, the White Tea Collection delivers potent skin-healing, anti-aging antioxidants with a "zen-like" scent that is subtle and calming. Ideal for all skin types, this cream will leave skin smooth, toned, and rejuvenated. For all skin types.
Lavender: Infused with essential oils of French Lavender, eShave's Lavender Shave Cream leaves a pleasant, fresh feeling as it calms, hydrates, and soothes sensitive skin. Ideal for daily use as it clarifies and tightens the pores, restoring the skin's suppleness and softness. For normal to sensitive skin types.
Fragrance Free: All of the benefits without the fragrance. eShave's pure and simple Fragrance Free Shave Cream moisturizes, heals, and protects the skin. Ideal for sensitive skin.
Hi-res images available upon request.
For more information, please visit: http://www.eShave.com or contact: 800-947-4283
About eShave:
Since 1996, eShave has been "All A Man Needs for the best shave Ever." Specializing in the finest quality grooming products and accessories, all of which are handmade in New York City, eShave brings a modern touch to the most traditional way of shaving. The award-winning brand is recognized around the globe for delivering the smoothest shave possible free from razor burn, shaving-related bumps and irritation, ingrown hairs, and the 5 o'clock shadow.
eShave products are available online at http://www.eShave.com, eShave New York boutiques at Rockefeller Center and World Financial Center, and in select upscale retailers/spas worldwide. 1-800-94-SHAVE / info (at) eShave (dot) com
Media Contact: Shelly Cellak | shelly (at) burgeonagency (dot) com | 773.398.6154