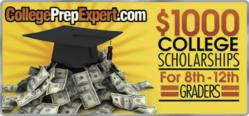 RSC is all about rewarding student commitment says John Braat Executive Director of Student Enrollment
Schenectady, NY (PRWEB) September 28, 2012
RSC Your College Prep and Financial Aid Expert is excited to announce the kickoff of a $1,000.00 scholarship giveaway. Any student that has completed 7th grade but not yet completed 12th grade is eligible to enter.
Students can only enter once but their single entry will keep them entered through the duration of the giveaway. Winners will be withdrawn from future drawings.
RSC will randomly draw one winner per month beginning December 1st, 2012 and run through May 1st, 2013. The monthly winner will be notified by email and the scholarship will be paid directly to the college upon the student's enrollment.
RSC offers two programs to help students plan, prepare, and pay for college. Our College Prep Program – for 8th, 9th, and 10th graders includes the basics of college and career prep, advanced SAT and ACT prep materials, college research and more. We also offer a Financial Aid and Paperwork Program – for high-school sophomores, juniors and seniors who need financial aid assistance. This program covers everything the prep program does and includes the completion of financial aid forms, forms review, possible appeals and more.
There is no purchase necessary to enter the contest. "All of our programs are designed to help students and families reduce the cost of their education. RSC is all about rewarding student commitment." says John Braat Executive Director of Student Enrollment.