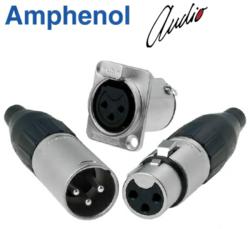 Duarte, CA (PRWEB) September 28, 2012
Zack Electronics, a fully stocked Amphenol Audio Distributor carries a suite of premium XLR connector products for the professional audio market at its exclusive online storefront, http://www.zackelectronics.com.
All Amphenol Audio XLR products are engineered in Australia, and are available in a variety of configurations which include panel (chassis) mountable and in-line (cable) mountable versions. The Amphenol XLR connector, aka the "balanced audio connector," set the industry standard for connections found on professional microphones, mixing consoles, and audio processor racks.
AC Z Series 3-pin XLR Male Panel Mount Connectors by Amphenol Audio AC3MMDZB are precision-engineered for the audio user where durability, reliability, and strength across a wide range of applications is critical. Innovative Amphenol AC Z Series metal chassis mount XLR connectors are manufactured to the strictest quality standards (IEC268-12 & AES14-1992) and are guaranteed compatible with all other XLR cable brands. Each 3-pin XLR connector features 3 precision-machined Gold-plated pin contacts with solder buckets and a D Flange Zinc Diecast shell with black finish.
T Series Pro Range 1/4" TS Mono Phone Plug Connectors by Amphenol Audio TM2P are precision-engineered for audiophiles, performers, broadcast technicians, and recording engineers; where noise and discontinuity are outright intolerable. Innovative Amphenol T Series professional-grade 1/4" TS mono phone plug connectors are manufactured to the strictest quality standards (IP40 & IEC68-2-20) and are guaranteed compatible with all other TS and TRS audio jacks. Each 1/4" TS mono phone plug connector is specifically designed in a "road-ready" condition, allowing for a quick and rugged solderless termination to your preferred wire with Amphenol's exclusive Jaws Cable Clamp technology.
About Zack Electronics
Based in Duarte, California, Zack Electronics Inc. is a leading west coast Amphenol Audio distributor supplying products to the professional audio market. Zack Electronics Inc. carries thousands of products in Audio and Video, Electronic Chemical and Cleaning Supplies, Computer and Data Networking, Connectors, Electrical and Power, Labeling, Panels, Plates and Patch Bays, Racks, Cabinets & Shelving, Security (CCTV) and Monitors, Tools and Installation Aids, Test Equipment and Accessories, and Wire and Cable.