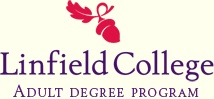 Linfield's Adult Degree Program itself has seen a 12% increase in enrollment just for the Fall 2012 term.
McMinnville, OR (PRWEB) September 29, 2012
The number of working adults earning online degrees has seen a dramatic rise. Linfield's Adult Degree Program itself has seen a 12% increase in enrollment just for the Fall 2012 term. As the option to earn a fully accredited bachelor's degree online becomes more accessible and customized, many adults are choosing to further their education through online coursework.
The benefits of earning a degree online from an accredited college are endless and provide an advantage in any industry. Working professionals looking to gain valuable work experience in a current career path can benefit from the additional skills and experience a college education provides, and some may even benefit from a promotion and/or salary increase. Earning a degree online can also prepare one for a new career or allow a partially finished college education to be completed while working in a current position.
Taking classes online is ideal for adults looking to earn a degree at their own pace. Unlike earlier distance learning programs, online programs today are available 24 hours/7 days a week and allow adults to maintain full schedules, families and careers while taking classes online and earning a degree. Linfield College offers an excellent accredited degree program, allowing students to access courses and assignments at their convenience while allowing easy communication with classmates and professors.
For those who may not want a to pursue a degree online, Linfield's online certificate programs are available as well. The certificate program provides targeted continuing education in high-demand fields that enable students to build career advancement through a combination of knowledge and experience. Designed for adult students looking to make themselves more competitive professionally, Linfield's online certificate programs offer busy adults the perfect online format to earn professional recognition in a given specialty.
Linfield's accredited online degree and certificate programs offer courses that require the same time commitment as traditional college courses, with similar academic expectations. To learn more about online courses and the profile of an effective online learner, read the Linfield College Online College Guide, perfect for helping you to determine if an accredited online college degree program is right for you.
About Linfield College Adult Degree Program
Chartered in 1858, Linfield College is one of the first colleges in the Pacific Northwest and is regionally accredited by the Northwest Commission on Colleges and Universities. The Division of Continuing Education's Adult Degree Program offers adults the opportunity to earn a bachelor's degree or certificate.
Online programs offered by Linfield College Adult Degree Program include an online management degree, accounting degree, online marketing degree, social and behavioral sciences degree, RN to BSN degree and international business degree and certificates in post baccalaureate accounting, human resource management and marketing.
Press Contact:
Janet Gifford
jgiffo(at)linfield(dot)edu
503-413-7056