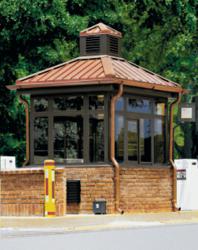 Los Angeles, CA (PRWEB) September 28, 2012
Committed to excellence at every level, Louisiana State University's regard for aesthetics extends to all aspects of campus design. When LSU needed a new parking control/guard booth, they turned to B.I.G. Enterprises, Inc. (http://www.bigbooth.com) who introduced The Estate, a custom-fabricated design that complements LSU's Italian Renaissance architecture and renowned landscaping.
Built to adhere to the strict building codes instituted after Hurricane Katrina, this visually appealing design features a cupola-topped copper standing seam roof with matching gutters and downspouts. The Estate ships fully fabricated and ready for installation. The Estate is designed to incorporate a tough, yet decorative brick facade which provides a welcoming interface for visitors.
"We are pleased to add this striking model to our fabrication range. Like all of our guard shelters and booths, The Estate meets the exacting demands of regulatory agencies, security directors, facilities managers, and architects." said Vice President David King.
Guard booths are subject to both rigorous use and unpredictable environmental conditions, and so must be manufactured using the finest materials and techniques. Noted for its durability, The Estate is outfitted with extensive electrical capabilities, high output HVAC, data and communication lines, shelves and attractive cabinetry. The booth can also be customized for specific security needs including bullet and blast resistance.
In addition, The Estate design can be modified to serve additional applications such as check-in stations, or facility information kiosks.
About B.I.G. Enterprises:
Since 1963, B.I.G. Enterprises, Inc. of California has engineered and manufactured a comprehensive line of high quality, high-end, prefabricated security and revenue control booths. Their state-of-the-art selection of pre-assembled buildings includes guardhouses, cashier booths, portable shelters, and a variety of custom-made kiosks.