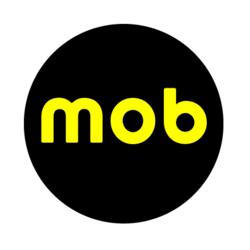 "Whether it's a Mommy and Me picnic with neighbors, or a sit-down potluck with total strangers, our aim in creating MOB is to bring people together in the community," said Patricia Adler, MOB founder at Hatch Labs.
New York, NY (PRWEB) September 28, 2012
Hatch Labs today announced the launch of MOB, a free event-sharing app that allows users to create and discover inspired local happenings. Now available on iTunes, MOB connects people with others in their area for spontaneous gatherings, whether it's an improvised group jam session, guided meditation circle, or Ultimate Frisbee in Central Park.
As part of its initial launch, MOB is curating some of its own get-togethers as part of its kickoff in Los Angeles, San Francisco, London, and starting with the Dumbo Arts Festival in Brooklyn, NY, September 28th-30th, 2012, where it will be showcasing the app through a range of artistic get-togethers.
Unlike other event apps that are often convoluted, time-consuming, and require heavy planning, MOB includes a number of features specifically designed for energetic, creative, and spontaneous people who want to efficiently create events for those in their community.
MOB Highlights

Simple UI to allow for easy creation of events – all a user has to do is select a time and place, then use your iPhone's address book to add email addresses to share with others.
Easy set up and editing functionality - it takes 20 seconds or less to start a MOB and posts can be edited and changed after they've been published.
Robust search and event discovery - Users may search for happenings based on location and start-time, then filter location radius with an easy to read map interface.
Choose between a map interface or a grid/gallery view with MOB thumbnails - MOB uses MapBox, which stylizes the map in black and white, to make the yellow markers pop for easy navigation.
"Whether it's a Mommy and Me picnic with neighbors, or a sit-down potluck with total strangers, our aim in creating MOB is to bring people together in the community," said Patricia Adler, MOB founder at Hatch Labs. "I think it's best described when read as an acronym – Moments Outside the Box. We want to put some of the fun back into planning and creating events, since it's often those spontaneous moments that people remember best."
Patricia Adler joins Hatch as part of IAC's Teaching and Research Fellowship Fund in partnership with NYU's Tisch School of Arts, where IAC committed $250,000 to support post-graduate students from the school's Interactive Telecommunications Program (ITP). ITP is a two-year graduate program located in NYU's Tisch School of the Arts whose mission is to explore the imaginative use of communications technologies.
"Founded by Dinesh Moorjani at IAC, Hatch builds mobile startups that make existing products work better and breaks ground on new ventures that improve mobility for billions of wireless device users. Along with the launch of MOB, Hatch is working on several new startups that exploit hardware and software advances on mobile devices.
"MOB was inspired by the desire to simplify how people create local activities in their communities and connect with one another," said Dinesh Moorjani, CEO of Hatch. "We're privileged to partner with ITP to channel the university's top talent toward innovations that advance mobility."
Prior to Hatch, Adler founded a London based design studio, Pepper-mint, where she designed products for clients including BBC, Bloomberg, and IDEO. Patricia has a master's degree from NYU, and holds a patent for Magscapes, a magnet-receptive wallpaper product.
Dumbo Arts Festival is one of the city's largest and most ambitious arts events. Over three days, an expected 225,000 art-lovers will experience extraordinary art by more than 500 artists from around the world. The Festival will showcase installations in stores, lobbies, scaffolding, and alleyways, performances and exhibits on more than 50 stages, and tours of 100 open artist studios.
To find out more information about the app, or to meet with MOB founder Patricia Adler at DUMBO Arts Festival, please contact patricia.adler (at) hatchlabs.com. For more information on employment opportunities and open positions at Hatch, you may send an email to info(at)hatchlabs(dot)com.
About Hatch Labs
Hatch Labs is a technology sandbox building mobile startups. With the investment and resources from IAC and Xtreme Labs, Hatch start-up teams rapidly prototype new applications and services to best serve the evolving world of mobile. Hatch Labs companies leverage the vast network of IAC, which includes Ask.com, Dictionary.com, CityGrid Media, Match.com, and others, and Xtreme Labs whose client list includes household name brands such as CBS Sports, Evite, Groupon, NBA, and Polaroid. Visit our hatchlings at http://www.hatchlabs.com.
Media contact:
Eric Gonzalez
VSCpr for Hatch Labs
415.272.0836
eric(at)vscpr(dot)com