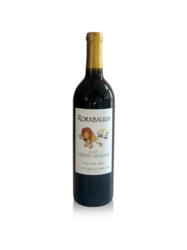 great wine is made in the vineyard
Healdsburg, CA (PRWEB) September 27, 2012
"We've always appreciated the significance of our land and the value of our surroundings," says Lorraine Rorabaugh, proprietor and operator of Dry Creek Valley's Rorabaugh Wines. "Whether it's sipping and bottling delicious, handcrafted wines, or immersing in the vineyard's total beauty, you can't help but be impressed by all of nature's offerings," Rorabaugh continues. "We try and showcase that in every way possible."
Operating under the philosophy "great wine is made in the vineyard," Lorraine and Rorabaugh have always pursued a wholesome creation process that exhibits only the purest expression of the fruit. Their 2010 vintage is no different, boasting the same conscientious grape growing and quality caretaking methods they've been practicing since day one.
"Richness, intensity, and complexity working together with aromas and flavors of blackberry, black cherry, and plum; not to mention notes of cedar, oak, and anis, our 2010 has it all," says Rorabaugh. "I've tasted wines from a number of the world's vineyards, and it's obvious – sometimes painfully – when fruit hasn't been cared for before and during harvest," she remarks. "Our wines express the characteristics of the 'single vineyard' and resulting distinct terroir; without question."
And for as much excitement as there is surrounding the new release, Lorraine is the first to direct conversation to her vineyard villa; aptly named Casa Privata for its off-the-road, tranquil eight-acre getaway, nestled in the heart of the beautiful Russian River Valley. Providing breathtaking views and peaceful ambiance, Casa Privata is situated in prime location, only minutes from charming Healdsburg and the many Michelin star restaurants, sophisticated shops, and boutique wineries the town has to offer. The property is available for rent throughout most of the year.
As for specific house amenities, Rorabaugh invites you to "live the dream," while taking dips in the pool, relaxing on the patio, playing bocce, or simply walking the vineyards. Three master bedrooms, central heating and air, satellite TV, high-def plasma Wi-Fi, and the 1,000-bottle wine vault are all available – perfect for the romantic couple's getaway or even social retreats with larger groups of friends or family.
"From the wine to Casa Privata, this land has produced some pretty special memories," says Rorabaugh. "While we strive to combine the vineyard's unique characteristics with our personal stylistic preferences, we will always create lasting experiences in everything we do."
Rorabaugh's 2010 vintage can be purchased for $15 per bottle exclusively through Rorabaugh wines. Additional information about the winery and Casa Privata, including available dates, rental rates, and more can be found at Casa Privata. Interested parties looking for specifics about the wine or getaway stays can contact Lorraine Rorabaugh.