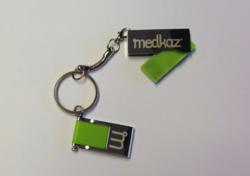 It's a giant leap for the family member responsible for loved ones who are too young, too old or too sick to care for themselves.
Brownsville, VT (PRWEB) September 28, 2012
Health Record Corporation (HRC), creator of the patented MedKaz personal health record system, announced today that it has expanded the scope of the revolutionary MedKaz from serving a single patient to serving a family. This important improvement is included in a software update released today.
A MedKaz owner can now add records to their MedKaz of dependent family members unable to manage their own records or MedKaz, such as young children, elderly parents or other close relatives. And when they take their loved one to a doctor, the doctor has the records and information they need to coordinate their care with other providers, avoid mistakes and preclude redundant or unnecessary tests.
Announcing this important MedKaz software update, Merle Bushkin, Founder and CEO of HRC, said "We're delighted to add family members to a patient's MedKaz. Both young and elderly parents have wanted this capability. Now they have it.
"It's a giant leap for the family member responsible for loved ones who are too young, too old or too sick to care for themselves. They now have the convenience of carrying their loved ones' lifetime health records along with their own on their MedKaz -- on their key chain or in their wallet. They simply give it to the doctor who, in turn, can electronically sort, search and read their child's or parent's records and provide better care. This added capability further distinguishes the MedKaz from all other personal health record systems."
About MedKaz and HRC:
The patented MedKaz is a revolutionary system that puts the patient at the center of their care by aggregating their lifetime medical record in one place, owned and controlled by them, where care providers can access them as needed. The MedKaz is the only system that accepts records in all formats from all sources, overcoming record incompatibility; is secure from Internet breaches, easy to use, affordable, and available now; and doesn't require government subsidies or the construction of extensive electronic networks to exchange records. It lives alongside care providers' systems, whether paper or electronic, and fits seamlessly into their established workflow, enabling improved quality and coordination of care, elimination of mistakes and unnecessary testing, and cost reductions. The Medkaz was created and is supported and distributed by Health Record Corporation, based in Brownsville, VT. For more information, please visit http://www.medkaz.com.
Contact:
For MedKaz/HRC:
Merle J. Bushkin
802 484-0249 (office)
802-230-6178 (Cell)
mbushkin(at)medkaz(dot)com