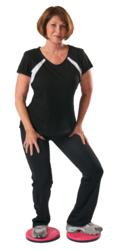 Weight gain due to injury is frustrating and can make a person feel powerless. I knew there had to be a solution
Bakersfield, CA (PRWEB) September 28, 2012
It was the simple desire to lose the extra 30 pounds Dawna Hudson-Uhles gained while recovering from her February 2006 double knee surgery that led the former San Francisco Bay Area fitness club owner to invent the revolutionary MoChi Twister low-impact home exercise program, but it was the extraordinary life-changing result that led her to develop the online fitness company MoChi Fitness, Inc. and offer the exciting and fun new "Twist-a-Mania" home exercise program to anyone looking for an easy to use, portable and effective workout.
"Weight gain due to injury is frustrating and can make a person feel powerless. I knew there had to be a solution," said Dawna. "Where there's a will there's a way, and I found the way! I am excited to share our new Twist-a-Mania fitness program with others looking for an alternative workout program."
After many months of a stagnant recovery from serious injuries to her knees that resulted in extensive surgery, the San Francisco fitness guru was left with excess belly fat that even women (and men) with healthy knees struggle to rid.
Craving the return of her active lifestyle and youthfulness, Dawna sought out a low-impact, home exercise routine that would not only be easy on her sensitive knees, but would incorporate movements from her favorite fun, high-energy pastime – dancing. Through this search, she invented MoChi "Twist-a-Mania", a simple way for men and women to have fun while losing weight by twisting their way to a healthier heart, stronger muscles and increased energy.
"MoChi Twisters are easy to use and incredibly fun," said Dawna. "We took the old fashioned twisting disc exercise tools and gave them a major upgrade that produces major results. I'm convinced the MoChi Twisters are the single most important piece of exercise equipment anyone can own."
Dawna lost the 30 pounds she had gained, closed her Sausalito fitness center and founded the online fitness company MoChi Fitness, Inc. with her future husband, Denny, in Bakersfield, CA. The two designed and manufactured their own Twisters and produced a variety of different music-driven MoChi Twister dance fitness videos available on their website, http://www.mochifitness.com.
The couple recently introduced the MoChi Fitness "Twist-a-Mania" program, which combines the simple twisting motion that develops balance, core strength, speed reaction and increased range of motion, with Twister discs, high-energy music, the MoChi "G-I-F-T" Dial (Gauge + Increase + Flex + Target = G-I-F-T), and Dawna's own technique called "PCMA" - Precise Controlled Muscle Activation.
"Twist-a-Mania is a new, unique and powerful workout program," said Dawna. "It benefits all age groups and all fitness levels, it's fun, convenient, affordable, and the Twisters are lightweight and compact enough that the low impact power driven Twist-a-Mania program can be done at home, school or the office!"
Before long, Dawna started hearing from women that inches were coming off their waists and their buns were lifting and tightening. The Uhles' have sold the Twist-a-Mania workout program to customers in several different states across the U.S., as well as Canada and Australia.
For more information about the MoChi Fitness Twist-a-Mania program, visit http://www.mochifitness.com or please contact the MoChi Fitness team at 1-855-662-4448.
About MoChi Fitness "Twist-a-Mania":
The MoChi Fitness "Twist-a-Mania" system is a revolutionary, low cost workout method that can be used almost anywhere by anybody regardless of your age or fitness level. It uses elements of dance with core strengthening movements to create a comprehensive, successful fitness program. Not only does it benefit athletes but is an ideal exercise routine for women and men on the go, those with injuries or impairments requiring low-impact on joints, and is also a great exercise for pregnant women who want to remain active but lessen physical stress. Want a home fitness routine but have limited space? The MoChi Fitness system requires only a few square feet of space to be utilized successfully. Use MoChi twisters whenever, wherever, home, school, or the office and see the results come flying in!