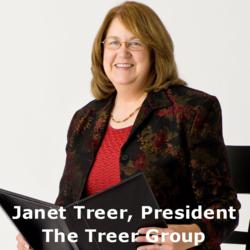 Strategic planning should not overburden your management team with endless work and meetings.
Lancaster, PA (PRWEB) September 28, 2012
The Treer Group's new approach to strategic planning and goal setting offers companies and organizations of all sizes an effective, low-cost way to focus staff efforts on common goals and improve business performance.
"Many executives repeatedly put off strategic planning to focus on day-to-day operations and deal with demands that just can't wait," says Janet Treer, President of The Treer Group, a strategic planning, coaching, leadership development and management consulting firm based in Lancaster, PA. "They sincerely intend to do it, but it never happens. One key reason is their perception that the strategic planning and goal setting process is cumbersome, complex and excessively time consuming. But it doesn't have to be."
Treer has developed a streamlined, step-by-step process that keeps businesses on track as leaders and their teams identify the right path for their organizations. She attributes the success of the process to its being efficient, inclusive and producing specific, tangible follow-up actions.
"It is important to start with a clear understanding that strategic planning is an ongoing process that requires firm commitment," continues Treer. "That does not mean it should overburden your management team with endless work and meetings. A properly designed and facilitated planning process will efficiently guide your team from organizational goals to specific objectives and actions for every member."
Treer's process includes five key steps:
Step 1: Visioning – the organization's vision is a statement of its potential. It gives a clear description of what the organization strives to become.
Step 2: Strategic Thinking and Planning – this is the process organizations go through to decide what direction the company should take. It considers every aspect of the company, its assets, resources, challenges and opportunities. The result is a clear, viable plan for achieving the future success of the company.
Step 3: Business Planning – the next step is to create specific goals that will move the company in the right direction. Different departments or components of the organization can have individual goals and actions that combine into an overall initiative for the company.
Step 4: Implementation - this is where the leadership and team make it happen. It includes activity schedules, accountabilities, tracking and evaluation to keep everyone on plan.
Step 5: Review and Continuous Improvement - reviewing progress and measuring results keeps people and activities on track. It also identifies necessary changes and continuously improves the process and the company.
"Implementing and diligently maintaining an effective strategic planning process can make a significant positive impact on your company," says Treer. "With proper design and facilitation, it will take less time than you probably think, while truly energizing your team."
Read More About Strategic Planning
Subscribe to Management Updates, The Treer Group's Monthly Bulletin
Read Janet Treer's blog: Manage2Succeed
About The Treer Group: The Treer Group provides coaching, assessments, tools and guidance to help organizations and individuals identify areas in need of improvement, discover practical solutions and implement long-lasting change that comes from within. Janet Treer, President, founded The Treer Group in 2007.