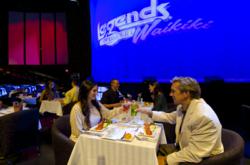 Guests will appreciate a unique Hawaiian venue.
Honolulu, Hawaii (PRWEB) September 27, 2012
Whether you're planning a holiday get-together for family, friends or coworkers, they'll all appreciate a unique Hawaiian venue with gourmet dining and world-class entertainment.
The 1,500-passenger award-winning Star of Honolulu offers an ever-changing tropical backdrop, with two private lounges for an intimate atmosphere, and four decks that can accommodate groups of nearly any size. Enjoy dining, socializing and live Hawaiian entertainment, with three types of stabilizers for a smooth voyage and wheelchair accessible facilities.
On land, Legends in Concert Waikiki presents an exciting new option for a rockin' holiday event. Menus range from a gourmet Hawaiian buffet to 4-course steak and seafood dinner, before thrilling entertainment by "Elvis" and an all-star cast of tribute artists at the Royal Hawaiian Theater in the heart of Waikiki. A live band and fabulous dancers complete this "must see" musical extravaganza for all ages.
Call early for the best selection; Michael Sewell, Group Sales, (808) 983-7884, or for more information visit http://www.starofhonolulu.com or http://www.legendswaikiki.com. Special rates are also available for locally based groups.