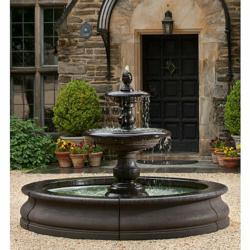 Kinetic Fountains has released new outdoor fountains in a variety of sizes...
Arden, North Carolina (PRWEB) September 28, 2012
Kinetic Fountains, a leading national provider of indoor and outdoor water fountains, has today released new models for outdoor use. These outdoor fountains are available in a wide range of styles, sizes and types to ensure that any style, design, landscaping or aesthetic considerations can be met.
Kinetic Fountains has released new outdoor fountains in a variety of sizes, ranging from small to medium and large. In addition, the company has unveiled new styles, including tiered fountains. Running the gamut from small, tabletop models to large tiered fountains ideal for formal gardens, these can be stunning additions to any outdoor environment, from a quiet nook to a spacious patio or an English garden.
Customers will also find that the company offers a wide range of construction materials in their garden fountains. Cast stone fountains offer affordability married to durability, but granite fountains are also available for those who prefer natural stone. Copper, ceramic and bamboo are also available, as is stainless steel.
While Kinetic Fountains' selection of outdoor fountains offers a wealth of possibilities for homeowners, businesses and organizations can also benefit. Many fountain models (including those designed for outdoor use) can be custom designed to meet specific needs.
Whether for use in front of a business location, on an organization's grounds or within a private garden, these outdoor fountains offer the tranquility and peace only found through the sight and sound of running water. With options to fit any budget, design needs or aesthetic requirements, Kinetic Fountains offers something for every home or business.
To learn more about the new outdoor fountains available from Kinetic Fountains or to place an order, visit the company at http://www.KineticFountains.com.
About Kinetic Fountains: Kinetic Fountains is located in the stunning Blue Ridge Mountains in North Carolina. The company is dedicated to giving customers the means to enjoy the incomparable beauty of nature and the health benefits offered by running water in the form of indoor fountains, outdoor fountains, logoed fountains and more.